No experience at dating...
Page 1 of 1 [ 5 posts ]
Isabella
Tufted Titmouse


Joined: 20 Feb 2010
Age: 39
Gender: Female
Posts: 48

Hard to believe that someone over 25 has no dating experience, but thats how it is. I dont know if this is typical for most aspies. I've tried dating online before, even got engaged once, but none of them worked out in real life. I always ended up meeting someone from another state or country for that matter, which would be one of the main barriers to the relationship. After a while I just stopped trying to meet people online. But honestly, its the easiest way for me to meet new people. I'm extremely shy around new people and get tongue tied and come off sounding like a studdering fool. Anyone else have this problem? I'm just wondering if the rest of you have trouble with dating? Or heck just making friends?

I have one friend, my neighbor, who just happens to be male. I get the feeling he may want more than friendship from me, but him being an aspie too, he probably is having the same problem I have, working up the nerve to make his feelings clear. My feelings on this however is not the same as his, I am sure. I like him as a friend, but I feel like we don't have nearly enough in common to make a relationship work. Plus he has a few annoying habbits that drive me mad! But which I tolerate because he is a good friend and I dont want to lose the only friendship I've had in years. I hope I'm not giving off the wrong signals. Since this is the first real relationship I've had with a guy, of any kind, maybe I'm giving off the wrong vibes or something.



Anyone have any advice?
Descartes30
Toucan


Joined: 24 Dec 2009
Age: 40
Gender: Male
Posts: 272
Location: Earth, for now.
I very much understand how shyness can interfere with dating. I'm a guy, so I'm supposed to be cocky and confident and be the one to make the first move. Nope... not going to happen

I agree with you that the internet thing seems like a good solution, but like you it is tough to even find anyone in the same area. Wyoming is the least populous state and most of the people I live around are about the complete opposite of me.

I doubt that you are necessarily giving off the wrong vibes, most single males want more than just friendship from their female friends. Unless they are asexual, it is just how males are generally wired. There are some exceptions, but they seem to be fairly rare. Just make sure you keep your boundaries clear and keep looking for someone that is more your type.

_________________
Plimba prin umbra, pina la marginea noptii
Unorthodox
Blue Jay


Joined: 9 Feb 2010
Age: 35
Gender: Male
Posts: 95
Location: Northwest USA
You might try Craigslist in the LTR section, the local nature of it would definitely help you meet someone in your area, plus it's free of course. The trick to using CL to meet people is to be patient and use a few techniques to avoid fakes and scammers. The easiest one is to insist that anyone replying put a "key" in their subject line, something like their favorite movie works well, and will weed out all the bots. Be honest in your ad, but I'd recommend against identifying as AS until you've met someone you're comfortable with, most people won't know what it means, and those who do might think it makes you vulnerable to exploitation, so I think it's best to describe your shyness and such but not actually come out and say AS. I actually have quite a bit of positive experience using CL to meet people as an Aspie male, and if you think it might be helpful I can really go into great detail about how to go about it correctly, just let me know so I don't wear out my keyboard giving unwanted advice.

(FYI don't worry, I'm happily in a relationship)
ValMikeSmith
Veteran


Joined: 18 May 2008
Age: 47
Gender: Male
Posts: 1,265
Location: Stranger in a strange land
Dilbert
Veteran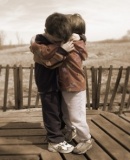 Joined: 29 Mar 2009
Age: 43
Gender: Male
Posts: 1,728
Location: 47°36'N 122°20'W
Oh hell no. Craigslist is a cesspool of shady characters, crime, prostitution, scams... more than 50% of post there aren't real.

Keep trying online dating. First have really cute pics taken. Go to a professional photographer and pay for it if you have to, and try to smile in the pictures!! ! Write a nice and SHORT bio, and put it all up on a mainstream dating site such as ok cupid. Set the search to your local area so you don't end up finding someone a 1000 miles away.

Not sure that anyone can help you with the how-to for the actual dates. You'll just have to take the plunge and learn as you go. Go out with several people that seem even mildly interesting and just learn from your mistakes. Don't expect much from the first few dates. Prince charming will eventually appear.