Do aspies have a lack of creativity
Raziel
Veteran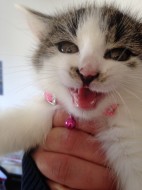 Joined: 25 Oct 2011
Age: 34
Gender: Male
Posts: 2,704
Location: Europe
People who have slightly the StPD are more creative than others, BUT when they have it very strong, than they are usually not creative at all and more technical thinking.
I have the feeling that in autism it is very simmilar.

I'm definitly more creative than others, also very often in my way of thinking.
But sometimes I also have a very "rigid" way of thinking and seeing things and that's also a part of autism.

_________________
"I'm astounded by people who want to 'know' the universe when it's hard enough to find your way around Chinatown." - Woody Allen
Last edited by Raziel on 08 Aug 2012, 12:55 am, edited 1 time in total.
pensieve
Veteran


Joined: 18 Nov 2008
Age: 32
Gender: Female
Posts: 8,326
Location: Sydney, Australia
I have both rigid way of thinking and a more out of the box insane ideas popping into my head out of nowhere style.

With my writing I like to be literal but then I write science fiction and I get these ideas and then I have to see if they stay within the laws of physics. Most of my art projects just start as a completely finished idea in my mind and I'll have to work toward making it a reality.

What I'm writing about now hasn't been explored in sci-fi, or at least it hasn't hit the mainstream. Yes I get the ideas from some memory buried deep in my subconscious that I forget where it came from, but I make it my own. Philip Pullman admits to stealing ideas, as does Orson Scott Card. There's not a whole lot of original ideas going around. Not even Inception was an original idea, or mobile phones or the iPad.

I think if you get ideas from many sources and make them your own and offer something different to the world than all the other cloned garbage that keeps coming out, then that's creative enough. I keep checking the latest released sci-fi novels and it's all futuristic or fantasy and in a way I'm comforted by that though nervous at the same time. But I'm offering something different.
Joe90
Veteran


Joined: 23 Feb 2010
Gender: Female
Posts: 14,028
Location: Colchester, Essex, UK
These are sorts of questions that baffle me. I hear a lot that Aspies prefer to spend a lot of their time being creative, and that NTs lack this. Now it's suddenly the other way around.


_________________
Straight Female
From East UK (Essex)
Aged 27

On antidepressants (50mg Sertraline) ~ Helps control emotional outbursts but not general anxiety.
LtlPinkCoupe
Veteran


Joined: 7 Dec 2011
Age: 26
Gender: Female
Posts: 2,352
Location: In my room, where it's safe
I've never really thought of that belief about people with AS lacking creativity as terribly accurate....I happen to think I'm very creative.

_________________
I wish Sterling Holloway narrated my life.

"IT'S NOT FAIR!" "Life isn't fair, Calvin." "I know, but why isn't it ever unfair in MY favor?" ~ from Calvin and Hobbes