A question for those that work with the general public
Page 1 of 1 [ 8 posts ]
passionatebach
Velociraptor



Joined: 8 Nov 2009
Age: 42
Gender: Male
Posts: 440
Location: Cedar Rapids, Iowa
I work as a telephone customer service representative and have been having some issues at work lately. It seems that I more problems with my immediate co-workers (my boss claims that I distract them with my conversations, and that I make people uncomfortable, etc), than I do with the customers on the telephone. I thought, as a person with AS, that my people skills would be lacking regardless of whom I deal with. I have also seen others on the board bring this up and have the same experiences?

Why is it that most of us have no problems with interaction when it comes to dealing with customers, or the public in general; but cannot get along with our immediate co-workers and superiors?
Last edited by passionatebach on 21 Feb 2010, 11:43 pm, edited 1 time in total.
MorbidMiss
Deinonychus



Joined: 22 Jul 2009
Age: 43
Gender: Female
Posts: 333

Polgara
Deinonychus



Joined: 26 Jun 2008
Age: 66
Gender: Female
Posts: 333

Dealing with customers, you can draw on your repertoire of standard conversational units which you will have long since accumulated. The interactions are not personal to you, and there are probably a finite number of topics you have to deal with. So you can just plug in the appropriate verbal response for the situation. And it doesn't matter if you repeat yourself to the next customer, they won't know and won't care, just as long as the issue they called about is properly addressed.

With people who are actually there with you, however, there are a lot more variables. You deal with the same people day after day. You will be a lot less able to haul out expressions or remarks from your memorized storehouse, you have to ad-lib. Opinions may be involved. And all of that will be where you run into trouble.

Maybe for a while stay fairly quiet with co-workers, speak only when spoken to, respond as needed with "Yes", "no", "sorry to hear that", "that's great", as called for as a response to what your co-worker or boss has said. Do not add unrequested information or opinion unless it is absolutely unmistakable to you that it is appropriate. Listen in the meantime to the conversations around you so you can observe what is customary. If anyone should remark that you are being quiet lately, or ask if you're OK, just smile and say you were thinking about your (relative's) (kids/upcoming event/improving health). Then gradually over time you can work up to more normal levels of interaction.

It may well be difficult to "stifle yourself" this way, even if not permanently, but I have found it to be a useful technique in that kind of situation. Most of the time I do NOT say what I am thinking because over the years I have learned which subjects are just way too freaky for normal people. When I find out they are abnormal like me, it's a lot harder to shut me up!

chaotik_lord
Veteran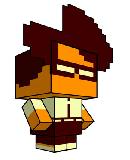 Joined: 17 Mar 2009
Age: 37
Gender: Male
Posts: 597

Electricbassguy
Snowy Owl



Joined: 17 Oct 2009
Gender: Male
Posts: 131
Location: Mountain View
ghostpawn
Snowy Owl



Joined: 15 Feb 2008
Age: 39
Gender: Male
Posts: 125
Location: Vancouver, BC, Canada
Maybe people can't tell that your body language is all wrong when you're on the telephone with them.

Whereas face-to-face acquaintances are more likely to perceive you as depressing, creepy, hostile, snobbish, etc
ColdBlooded
Veteran


Joined: 6 Jun 2009
Age: 33
Gender: Female
Posts: 1,136
Location: New Bern, North Carolina
Yeah. I work on the salesfloor at walmart, and customers are usually pretty easy. Like everyone else said, it's very structured and repetitive type of interactions. That was the main reason i thought this kind of job might be nice, to get to interact with people in a predictable way. Every now and then a customer does something unexpected and i pretty much choke up or get anxious, but it's ok most of the time. With co-workers, on the other hand, it's NOT structured and there's no script to work from or simple question/answer format.. It's a little more structured than, say, being put into a crowded highschool lunchroom, because at least there's some common thing you're all working at.. But you actually have to know how to socialize in order to interact well with coworkers. You just have to answer customers' questions and give them information in order to get along with customers most of the time. I find that there are certain customers that can be difficult to get along with and certain situations that get difficult though. There's customers who expect you to know what they mean when they say something vague, and sometimes its hard to get peoples attention without forcing yourself to look at someone's face now and then. uhhg. One thing i've always had problems with ever since i started working here is knowing when i'm supposed to walk away and when i'm supposed to stay. For example, i'll be explaining something to someone and then they'll pick up the box of the item we're talking about and start to read it... I'll wait for a few seconds, and they won't say anything, and i wonder whether i'm supposed to stay there and say something else or whether its okay for me to walk away. Sometimes i'll just back away slowly and see if they say anything, or ask someone else nearby if they need something so that the other person might speak up if they still need me. It's confusing sometimes, so i'm sure i must come off to a lot of people as strange, even though i think i do well enough with customers most of the time. With coworkers it seems like everyone treats me like a child, even people who are new seem to treat me like a kid pretty quickly. I notice that when someone from another department calls us for something, if i answer the phone they often ask to speak to someone else other than me. I admit that i can be hard to talk to sometimes.. It does seem like i'm out of the loop at work, and even new people end up picking up on something quickly that i never knew before about something we're supposed to be doing or whatever. Most of my meltdowns at work have been from being confused and frustrated by coworkers. The only real issue that comes up with customers is when a crowd forms.. And then i pretty much just mentally disconnect and try to ignore the existance of everyone except the person i'm talking to at the time. All in all, i think my job has been good for me. Lately, with changes in who's working in my department, i'm starting to get increasingly stressed out and i'm kind of wondering whether or not i should switch to overnights where i don't have to interact with many people.. Of course, then i wouldn't be in electronics anymore and i like electronics. But, yeah, coworkers are definitely the hardest part when it comes to needing to interact wwith people at work. Customers don't require real social skills, coworkers do.
MorbidMiss
Deinonychus



Joined: 22 Jul 2009
Age: 43
Gender: Female
Posts: 333