Which videogames have taken you the most time to finish?
coalminer
Snowy Owl


Joined: 15 Nov 2017
Gender: Male
Posts: 165
Location: U.S.A.
la_fenkis wrote:
coalminer wrote:
I played The Legend of Zelda: Breath of the Wild for over 200 hours before I felt satisfied. That file is far from complete, mind you; I barely passed 50% completion. But I don't really feel the need to do every little thing that remains (namely the korok seeds), especially now that I don't have the physical walkthrough anymore. I do plan on doing a shorter playthrough in master mode sometime soon, though.

When I was younger, I played Pokémon Heartgold for over 300 hours. There's just so much stuff to do in that game. Although, I wonder how much of that time was spent watching health bars slowly drain and long move animations. Since I was a (relatively) little kid, I didn't mind the slow battles much, but I don't know if I'd be willing to tolerate them now. I put a ton of time into other Pokémon games as well, but Heartgold is probably the one I played the most.
Playing Pokemon games with an emulator on a smartphone cranked to 4x normal speed makes the games much more tolerable as an adult in my experience.
Well, that generation of Pokémon is the only one where the battle speed is a problem (in my experience). They've made the battles faster in more recent games. And I'm too much of a goody-two-shoes to use emulators.

_________________
They say perfection is the ultimate imperfection. Or maybe that's just what I say.
Lukario
Deinonychus



Joined: 7 Aug 2013
Gender: Male
Posts: 381
Location: Norway
Wolfram87
Veteran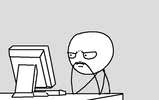 Joined: 14 Feb 2015
Age: 31
Gender: Male
Posts: 3,034
Location: Sweden
I've probably got 1000+ hours of Skyrim. Never actually finished it.

I got stuck at one point in the original Pokémon games because I didn't know what a vending machine was. By the time I figured it out, my Kadabra was lvl 60+ and my opponents were around lvl 40-50.

_________________
I'm bored out of my skull, let's play a different game. Let's pay a visit down below and cast the world in flame.