2020 Election Fraud Roundup
cyberdad
Veteran



Joined: 21 Feb 2011
Age: 53
Gender: Male
Posts: 18,441

One of Trump's star witnesses has been compared to a SNL character in a comedy skit
https://www.news.com.au/world/north-ame ... b6d35edc58

Ms Melissa Carone was "one of several thousand technicians we hired for a day or two". Her job at the vote counting centre was to "troubleshoot level one problems for staff".

Ms Carone's assertion that the turnout rate in Detroit was 120 per cent is false. The actual rate was about 51 per cent, with 251,138 of the city's 504,714 registered voters casting ballots.
That has not stopped the President and his lawyers from repeatedly claiming there were "far more voters than people" in Detroit.
Their figures appear to come from an error-riddled affidavit filed by Russell Ramsland, a former Republican congressional candidate.
Committing perjury in court can earn you a jail sentence in Michigan. As her affidavit was filed in court, Ms Carone was theoretically exposing herself to that possibility, though in practice no judge was actually going to take such draconian action.
uncommondenominator wrote:

This completely ignores the content of the affidavit. Don't move too fast, you'll miss important things. You can say whatever you want if you phrase it as "I thought" or "I suspected" or "I believed" - because in those cases they would have to prove you did not actually believe, and that's nearly impossible.
I understand where you're coming from. But they aren't using "I thought", but they are using I seen and this is what happened.
There is even hundreds of them across multiple states. While I haven't looked through each since it's hard to come across the entire list. I've seen enough to see there is a black and white I seen ... I heard ... and so on.
uncommondenominator wrote:
I read the affidavits
Where did you find the complete list of them? Can you link them? Other wise this seems to be a 1 sided you saying random stuff and expecting me/the world to believe you while people are given links back. Like I'm not trying to be mean, but you can say you're a freaking 4 star general for all I care and you have spies looking at it. It means as much as what you just said without any evidence on YOUR behalf.
But as I mention, it's hard to pull all the info together and it would be kind of nice to have a full list. If you can, please link them because even my stuff is a bit iffy since I have to go through news articles that I don't fully trust them
cyberdad wrote:
Ms Melissa Carone was "one of several thousand technicians we hired for a day or two". Her job at the vote counting centre was to "troubleshoot level one problems for staff".
A number of years back when Obama was running his 2 term I did the same thing since I was working on one of my degrees and it was I think $200 for a day of training and day of being out there. Same thing too, but different state.
Anyways, in the state I am in we mostly used paper ballots and the IT system was purely in the laptop of pulling their name up and the thing you put the ballot in. During the training we were told legal do and don't. I noticed groups pulling don'ts while I was there, but it wasn't major enough to look like it would change anything. So it's possible she did actually see something.
When I went for some higher degrees which was focused on cyber security. There was entire classes covering unsecure systems like the power plants and voting systems. These are the 2 most vulnerable systems we have today. Like there is even video of a test power plant site that was hacked into to figure out what damage could happen. Lets just say things blown up. And as far as voting systems, many systems are connected to each other in the same room (so they have their own network going on) but they are also connected to something else and that thing is connected to the net. This is a door in itself. And then them being connected in itself is a problem. Infect 1 and you infect all. Many of the higher end ones they were hacked within 7 seconds by people who never seen, touched, or even researched the system prior to (this happened in Defcon, and it's kind of funny).
Anyways, my point is you shouldn't discount her just because she was there just to handle level 1 questions. She was an ass, but she might of easily seen things off.
And it should be noted there is NO lvl 2 support in any site at least within my state. They straight up would have to just store the ballots or replace things. Again, at least in my local area they say a list of do and don't, and I can easily see some don'ts going on when I did mine a few years back.
On top of that, the system is so open to corruption and hacking that if not now. At some point someone is going to use it for not legit reasons and it's kind of a good thing to get these systems and policies patched now.
Last edited by Throwawayacccounts on 03 Dec 2020, 8:23 pm, edited 1 time in total.
cberg
Veteran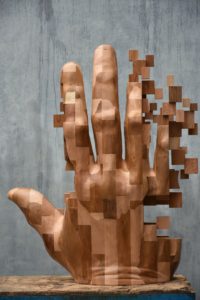 Joined: 31 Dec 2011
Gender: Male
Posts: 11,801
Location: A swiftly tilting planet
Hundreds of complaints from multiple states in a country this populous is not statistically significant in any way.
_________________
"Standing on a well-chilled cinder, we see the fading of the suns, and try to recall the vanished brilliance of the origin of the worlds."
-Georges Lemaitre
"I fly through hyperspace, in my green computer interface"
-Gem Tos

cyberdad
Veteran



Joined: 21 Feb 2011
Age: 53
Gender: Male
Posts: 18,441

cberg wrote:
Hundreds of complaints from multiple states in a country this populous is not statistically significant in any way.
They aren't looking at all the states. Like in my state Trump won. But I'm very sure they could pull some up if they wanted here. However, it's a waste of time and why bring it up? Like after this no matter what the system most likely will get patched or shown the people in power simply won't and will not.
And then if you look at the state by state thing (like millions in a state vs hundreds). Look at how many actually were apart of this. Like in 1 state they only had something like 2000 machines to count the vote if I remember right. It actually requires very very very few people.
Like all he needs to do is show there was something up in just 3 states I think. Again, why waste your time, energy, resources, and money in areas it doesn't matter?
cyberdad wrote:
I am wondering why these people are willing to commit perjury to save Trump?
Why do you think they are? Like what is the evidence?
Right now it's speculation on both sides. Until there is an audit or some people come forward and say we broke the law. It's pure speculation on our half (as the viewers).
IMO I think ALL gov voting in the country should be up for audited. I actually talked with someone who does some of this, and they said it would take something like $750k to audit all voting across the entire USA.
I even calculated how much hardware would cost to get cameras setup at each counting station and server cost. So one of the states said they had 2000 counting machines. Let's say you have a cheap 720p camera and a pie on each, and it is hooked to a NAS. It will take about 800 to 900 TB of data for all 14 days it took. The server is like $3k if I remember right, and the cameras and pie setup is about $110k. Keep in mind you can use it from there on out since the hardware cost doesn't repeat. So lets say you hire or use some AI to go through everything to earmark what it thinks is wrong. You're looking at about $100k-$250k estimated. And then the setup cost which is maybe $50k. So you're looking at about $420k, and lets bump that up to $500k per state. But since the hardware doesn't have to be rebought each election, lets say $300k-$400k on the high side per election. I don't understand why this doesn't happen. it isn't that much money. And this does a mini internal audit which in real time could let someone know to double check their work or if someone should look into it. Like if there is a near impossible pattern (like the number on the thing follow each other or the last 300 was on the same street)
Brictoria
Veteran



Joined: 12 Aug 2013
Age: 45
Gender: Male
Posts: 2,115
Location: Melbourne, Australia
cyberdad wrote:
I am wondering why these people are willing to commit perjury to save Trump?
I'm wondering why some people automatically assume those who submitted the affadavits was commiting perjury...
It would be interesting to see what evidence they have that demonstrates that the people who submitted them didn't see\hear\etc. the information they included in each of the affadvits. As yet, however, nothing appears to have been produced to support such emphatic (or in fact, any) allegations of perjury.
_________________
Quote:
"When people express opinions that differ from yours, take it as a chance to grow. Seek to understand over being understood. Be curious, not defensive. The only way to disarm another human being is by listening." - Glennon Doyle Melton
Quote:
"Never forget that you have every right to question any individual, system, movement, or group that only tolerates you when you think and behave exactly like them" - Africa Brooke
Kraichgauer
Veteran



Joined: 12 Apr 2010
Gender: Male
Posts: 42,216
Location: Spokane area, Washington state.
Trump's legal team pushing the stolen election fantasy are the likes of the sadly demented Rudy Giuliani and a crazy lady who belongs to QAnon! Among other things, they site cheating in Michigan's Edison county. In fact, there is no Edison county in Michigan... or anywhere in the United States! We're really supposed to take these people seriously?

_________________
-Bill, otherwise known as Kraichgauer
Tempus Fugit
Veteran


Joined: 20 Oct 2020
Gender: Male
Posts: 1,545

Just a update the new number of statements is 5,000. Meaning if they lied then they can go to jail. Idk what is in them, so ya...


Anyways, there is now video shown in GA hearing of stuff. I don't completely understand it. But it looks like the video is when everyone was kicked out a few workers stay behind. They illegally took some boxes under a table and which was hidden to count them which rigged the number.