depressed, hurting and crying (kind of personal, my story..)
Page 1 of 1 [ 6 posts ]
GoldCoinLover
Blue Jay

Joined: 25 Sep 2006
Age: 34
Gender: Male
Posts: 92

Hurting and crying
Maybe it's weird to cry for a guy... I take anti depressant meds but can't stop crying about me knowing I have an ED and no one to listen, talk to, or cares or understands. It's gotten progressively worse since I became extremely fit and muscular with the loose skin, (some, nor too much people tell me... I'm very ashamed of it, even though people tell me I look great or even some who seen my photos from once being severely obese say I look "amazing" and it scares me. It feels weird, I still feel fat from the loose skin.i have to say, I truly hate my psychiatrist , more than I've hated My dad , from the emotional abuse in the past, when I lived w ith them. I thought it mattered. I thought the media was right. I thought women would like me now that "I look good". I ge in a dilemma, it's hard to explain. I have a constant obsession with bodyfat, weight, and nutrition (learning it academically, going to college to become a registered dietiian...) despite looking in the mirror I'm frightened as I don't know who I am anymore, I feel so fat, but often when I look at the magazines and see the make models, I realize in truth I look like them almost in honest truth, from losing so much weight and gaining a decent amount of muscle ....



But then I shun it and feel fat again. How can I be so egotistical ? But I'm not being that way according to others, it's truth, and even though I've attains or almost attained the ideal (I say that because its never good enough. Most say I'm very fit and very muscular bu still athletic, my dad once reminded me in very rude ways how fat (and therefore lazy I was), now he constantly says I'm way too thin, but I'm not, he's a liar and always has been, even though he's ok most of the time when he's not angry now (and I don't live with him which helps alot) I just can win. I'm an extreme perfectionist inwardly and socially, I have aspergers, I have many accomplishments from I but grief because I'm never good enough. I look at my mentor and best friend (my only friend$ shimohara , or magician name Ponta The Smith, a famous coin magic (close up magic) magician.

Truly a world class master of coin magic, no kidding, like the Olympics level. He tours th world and gets free flights across the world to do shows and made his own DVD. But I constantly compare myself to him and cry in desperation and grief. No matter how good I get, even though I'm now extremely advanced in coin magician, and put over 10 years , 5 in purely coin sleight of hand,basic to very sdvanced, and over 6,000 hours practiceing my coin magic in 4 years I am not as good as him. No one is.... He's one of the besr in the world. I tell myself, maybr one day, if I keep practicing 6 hours everyday like I have over the past 3 years, in *10 years I'd be as good as him. Maybe id be famous like him. maybe id finally get a girlfriend, losing weight didnt do a thing, women NEVER check me out... or maybe i just cant tell and pick up on the non verbal clues, i dont know,im very sad.


I helped his company make a famous coin magic DVD for magicians now sold worldwide. I taught myself how to read , write, and speak Japanese, his native language for 2 years. I cry at night when I see what's wrong with society and the world, as most people never contemplate their moral, ethical philosophy in life, and the countless books I've read and continue to read grows the depression about a more corrupt society . If you read story of a good Brahmin by Voltaire , you'll understand exactly how I feel if you care to know.... The more I read the more the circle of both knowledge and darkness expands at the same rate, although I wish I was like thr ignorant peasant in the story, I've read over 1,000 books on over 100 different subjects, academically, non fiction, biographies , countless fiction and literature , that's not counting the reading on thr Internet which is vase. I curse the Internet for feeding into my obeses ion with "truth", I've lost my faith, as. I believe it very similar to my passion magic (Read Scots Discovorie of witchcraft ) and spinozas political and religious theories. Look at man in every dress, every rank, military or civilian,or neither, with an eye for an eye philosophy, I hate war, I hate other things to do with war I won't mention like "freedom" we get for legalized murder called war.... Torture which still occurs, .... Hatred and no kindness in the well being of the attacker... Believing they are "right "and everyone else is "wrong", I mostly hate ignorance, it's not the people's fault it's the society.


If you say someone else is wrong, even if you ARE right, you still lose in the hearts and mind of the person you Sid it too. Dale Carnegie was right , people learn from punishment, but not if it's too harsh. People should be held responsible for their actions, no doubt, but people learn and grow better with positive reinforcement than negative, I believe Maslow came up with that. Some links: about depression and loneliness I'm sure many of you could relate: About war and justice by mark twain (I suggest NOT reading this if you are pro war like most people, I'm NOT trying to start an argument, just state what has made me depressed. Read at your own risk (no vulgarity, I'd say its PG, but very descriptive ) that is why I take Aikido, O sensei the founder of Aikido, which came from Jujitsu is not , philosophy wise AT ALL like Steven SEagul. It can be deadly, but it is based on causing no harm in the attacker, while not getting hit yourself. It's based on jujitsu, reversing the energy and momentum of an attack towards you back on the nage (attacker), neutralizing the attack without any attack like atemi (sometimes deadly strikes to vital areas of the body) in aikido, there is no attack, except in feint attacks for distraction.

The well being of the attacker and you is the goal. You can defend a punch, kick, sidewinder to the head, beer bottom down the head, a baseball bat swung at you, and attacks from behind, attacks with tanto (knife), and randori (freestyle sparring . When the instructor says begin! Or "Hajime!!" 1 to 4 people in the class charge at you with grabs, side puches to the head (yokomenuchi), puches to the ribs (muetsukiz), straight jabs to the head, kicks, wrist grabs and shoulder grabs to try and immobilize you while punching you , etc.


Like Plato said in th cave in the boom the republic, "other men would say went up and came down without his eyes", others only seeing their own reality, which isn't real, mere shadows along the firelight that was cast, but they believe in their ignorance, it's all they know, stuck in a cave unable to turn their head o body, assuming the shadows , people, animals, all puppets reflected by the person controlling it in the light , casting shadows in the dark, believing them to be real animals or people, and since this is all they know, wouldn't they say the man who went out of the cave and into the real world ridiculous? Wouldn't they say he went up and came down without his eyes? As the sun, the light being the truth is blinding initially, ones eyes adjust slowly from darkness (illusion) into light (truth) both in the metaphor of both meanings. Initially, AND this applies to any thinking that has become habit negatively, the unhealthy (lies you tell yourself that aren't true, like being fat) thoughts told, if only to oneself, feel more real than the truth and initially more comforting?


Isn't depression, being stuck, th familiar abyss, more comforting and pain free from learning the truth (like I'm not fat) and likewise thr light, slowly the eyes adjust to the light with practice, the truth, one first only sees the reflection of herself in the water or himself, then , widening, one sees the moon, then the stars, then sees the sun, and eyed adjusted to a new truth, reality,feels more comfortable than before in the darkness? Finally s(he) is no longer blinded to the light, the sun, the truth, but finds it more real than the illusions of the men in the cave in their ignorance, and the bodily eye, just like the minds eye, becomes to the truth and light.... What if then he goes back in the cave? Wouldn't it be just to enlighten thr others in their truth as mere illusions?


But, alas, this never happens. Instead, as you go down your eyes must adjust to the darkness just like the light, but you know better and have seen truth, it is only temporary. You tell the men of the cave of reality, light and truth. But only seeing darkness , and puppets that resemble real people and animals among the shadows , the poor souls which cannot even turn their heads to see the truth, it's so sad. Wouldn't those men say he's ridiculous , kill him, and threaten to kill anyone else that escaped the cave into the light? Wouldn't they say he went up and came down with no eyes? What irony! To end, with this in mind, question yourself and remember:


Any one who has common sense will remember that the bewilderments of the eyes are of two kinds, and arise from two causes, either from coming out of the light or from going into the light, which is true of the mind's eye, quite as much as of the bodily eye; and he who remembers this when he sees any one whose vision is perplexed and weak, will not be too ready to laugh; he will first ask whether that soul of man has come out of the brighter light, and is unable to see because unaccustomed to the dark, or having turned from darkness to the day is dazzled by excess of light.
Plato, The Republic
Greek author & philosopher in Athens (************ BC - ************ BC)
GoldCoinLover
Blue Jay

Joined: 25 Sep 2006
Age: 34
Gender: Male
Posts: 92

Heres a story of a good Brahmin, one of my favorites and another :
Good Brahmin by Voltaire


Kafka (Literature):
Bachelor's Ill Luck
by Franz Kafka
Translated by Willa and Edwin Muir
It seems so dreadful to stay a bachelor, to become an old man struggling to keep one's dignity while begging for an invitation whenever one wants to spend an evening in company, to lie ill gazing for weeks into an empty room from the corner where one's bed is, always having to say good night at the front door, never to run up a stairway beside one's wife, to have only side doors in one's room leading into other people's living rooms, having to carry one's supper home in one's hand, having to admire other people's children and not even being allowed to go on saying: 'I have none myself,' modeling oneself in appearance and behavior on one or two bachelors remembered from one's youth.

That's how it will be, except that in reality, both today and later, one will stand there with a palpable body and a real head, a real forehead, that is, for smiting on with one's hand.




The War Prayer by Mark twain

War Prayer by Mark Twain
fluffypinkyellow
Raven



Joined: 25 Nov 2010
Age: 30
Gender: Female
Posts: 117

First of all, you need to get help with your eating issues. I've known people with eating disorders, and it's truly tragic how huge the whole thing becomes. It takes over your life, and it takes enormous effort to overcome it. You have to make very agonising choices to eat the food, and you have to make that agonising choice over and over and over again, even though it's incredibly difficult. It's a serious illness, and right now it's affecting you in more ways than you can tell.

If you don't think you're making progress with your current therapist, try another one. Try alternative ideas like group therapy, support groups, or even online support forums for eating disorders.

And you might want to rethink studying to be a dietitian, for now at least. It will probably get you obsessing over food and calories. It is best to avoid any more food or diet stuff than necessary, since it is already a source of stress for you.

Try pursuing other interests and passions you have that are completely unrelated to food, dieting or exercising.

I think it's especially hard because we live in a culture that basically encourages eating disorders. Everywhere you look, there is an ad for some diet or some weight loss thing. You turn on the TV and food is advertised in terms of calories, and then they show people eating the healthy low-calorie food and their whole lives becoming better. There is the narrative of losing weight and everything in your life magically falling into place. We are exposed to more media promoting diets, weight loss and calorie counting than ever before, and combined with the moral panic over obesity, it's like a breeding ground for eating disorders.

Please try exploring other avenues for help. If you ever need to talk, my inbox is open

Misslizard
Veteran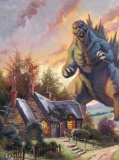 Joined: 18 Jun 2012
Age: 58
Gender: Female
Posts: 18,583
Location: Aux Arcs
People seem to tnink that only girls get eating disorders but that's not true,there is alot of pressure on men now to look"ripped".
Life is hard enough,then it's made worse by impossible beauty standards that media puts out.
we should be encouraging kids to feel good on the the inside instead of focusing on superficial ideas of external transient beauty.
Toy_Soldier
Veteran


Joined: 17 Jul 2012
Gender: Male
Posts: 3,370

GoldCoinLover wrote:
.... Look at man in every dress, every rank, military or civilian,or neither, with an eye for an eye philosophy, I hate war, I hate other things to do with war I won't mention like "freedom" we get for legalized murder called war.... Torture which still occurs, .... Hatred and no kindness in the well being of the attacker... Believing they are "right "and everyone else is "wrong", I mostly hate ignorance, it's not the people's fault it's the society....
Interesting take and something I basically agree with. The wars my country has been involved in in modern times have in my opinion mostly been useless, tragic and conducted for the narrow political reasons of those in power at the time. And yes, people in can still be just as savage and brutal as they have ever been in all recorded history. For this reason I believe war will not go away any time soon and may even multiply as the pressure for shrinking resources increases.
But on your coin magic, that is pretty cool. Something different. If I could make an uneducated suggestion, I would say that you may have learned all you can from the Sensei and now maybe time to establish your own distict style drawn from things different then his.
corastorm
Blue Jay


Joined: 7 Dec 2012
Age: 44
Gender: Female
Posts: 92
Location: North Carolina
i had a lot of psychological difficulty after losing weight and was surprised because i always thought i'd be so happy. but i hated the way the world changed, hated how visible i suddenly felt. there were men opening doors for me, smiling at me all the time and that had never happened before. i hated the attention and didn't feel safe.