Holiday in France.....nightmare.
Page 1 of 1 [ 5 posts ]
Nades
Veteran


Joined: 8 Jan 2017
Age: 1932
Gender: Male
Posts: 2,639
Location: wales
Went to Normandy on a battlefield tour with my dad and uncle. It was a week long trip leaving on the Monday (from wales) and returning on the Friday.

I had to get up at 4:30am on Monday to catch the feeder bus to take us to a second feeder bus. By about mid day I was on the outskirts of London waiting for the main bus to take us in which also arrived perfectly on time. On the way to the channel tunner we had news of a broken down train stuck in the tunnel along with long queues along the motorway which was an ominous sign on the way seeing mile after mile of HGV's parked up on the motorway.

Finally arrived at Dover only to get stuck for hours and hours in a queue myself, it was complete gridlock and it took 20 hours to arrive in Caen.

After such a gruelling trip I got struck down by constipation that lasted the full three days. It was horrid.

Went around the all the beaches with some pretty good guides along with venturing more inland on the final day. Overall the actual tour was pretty good until it was time to go back.

We started heading off at 7:45am and all was well until until I noticed the coach toilet was out of order. We went to a service station between Caen and Dover. Pulled onto the motorway and the coach went into limp mode stuck at 15mph. Some particle filter was clogged and it just refused to budge. We sat by the side of the road for 2 and half hours. I had to wizz by the side of the road in some random French guys driveway along with half of the bus (the home owner seemed furious) and by now my constipation was finally over and my body realised there was a backlog of nearly 4 days to shift...........my life was flashing before my eyes like a toiletless tundra over the endless, raining French countryside and my only hope was this new bus on its way to pick us up had a toilet..........it did but had a broken flush. The women who by now were desperate didn't care and went anyway. I went in the toilet again only to find it filled to the brim with stinking yellow pee and not even a working light.

After another half hour on this bus we went back to the service station were were at hours ago shortly before the trouble began and had to wait until new travel plans arrived as we missed our slot on the eurotunnel. It was decided to we would go on a Ferry at a nearby port but had to leave the bus behind, not that it bothered me anymore. We were then told it would be leaving France to the UK at 6:30pm. 7:45am to 6:30pm and we've only gone just over 100 miles.

Finally called through security and someone on the bus decided to buy a metal replica Sten gun in Normandy and was now being grilled by French guards who were closely examining his newly acquired toy. (What on earth went through his mind to think that was easy to get through customs). Finally on the ferry which was very nice actually. Got half drunk and raced to the duty free shop the second it opened for vodka and rum. We then arrived in England after 4 hours to another 30 minute wait but this bus was a brilliant new "executive" bus with lights that changed colours and TV's in each seat and what not, very posh.....shame it only drove for an hour before stopping again though.

We had to get back off the nice bus to get on other busses home. We got split up into groups and the biggest group went on this second swanky coach again, "Nice" I thought but where is our bus? and then we went around the corner and it slowly appeared....it was an old black minibus with those pull down seats and I had to get from London to Wales on it, or so I thought as the three other people with us told the driver they were being dropped off all over south England. After 3 hours of meandering around the back sticks of England the final 3rd person approached his destination in the heart of Bristol only for him to start leading us south for miles and miles out of Bristol, back on a roundabout to double back on our self back into the middle of Bristol. He was finally dropped off outside his house after a 15 mile wander.

Finally on our own we asked the driver if he could drop us off outside our homes and he replied "Sorry I can only take you to where the coach company pays me to drop you off". It was at this time my uncle finally lost it "Everybody else got on this nice coach and we've been stuck on this f*****g instrument of torture for the last 3 hours, I'm not happy, this is f*****g inhumane" and after we all laughed hysterically at his rant he agreed to take us directly home.

We finally arrived after 3 coaches, 1 bus, 1 ferry and 1 minibus and 21 hours later.
Last edited by Nades on 09 Apr 2022, 12:41 pm, edited 1 time in total.
temp1234
Veteran


Joined: 9 Apr 2022
Gender: Male
Posts: 1,514

Misslizard
Veteran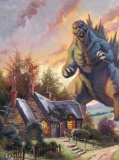 Joined: 18 Jun 2012
Age: 58
Gender: Female
Posts: 17,871
Location: Aux Arcs
Nades
Veteran


Joined: 8 Jan 2017
Age: 1932
Gender: Male
Posts: 2,639
Location: wales
Misslizard wrote:
For some reason I find it hilariously funny that you all had to whizz in the French dudes yard.Did he hurl out any interesting insults ?
He came outside and became animated with his arms. It's probably the first time something like this has happened to him but if you gotta go you gotta go.
Misslizard
Veteran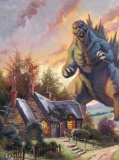 Joined: 18 Jun 2012
Age: 58
Gender: Female
Posts: 17,871
Location: Aux Arcs