Alex Jones talks about Autism and vaccines
Page 1 of 1 [ 8 posts ]
ev8
Deinonychus



Joined: 28 Aug 2007
Age: 32
Gender: Male
Posts: 324

Fedaykin
Velociraptor


Joined: 21 May 2007
Age: 43
Gender: Male
Posts: 405
Location: Sundsvall, Sweden
A quote from the clip:

"I have proof that through the vaccines, they're sterilizing us and brain-damaging us."

In one of his movies, he claims the FEMA has concentration camps ready for incarcerating tens of millions of Americans. Seems like he believes vaccines are the main cause of autism as well. He explains the difference in prevalence between boys and girls as being caused by gender differences in letting mercury reach the brain.

At first, I was happy to hear about his activism in general, but I've started to feel he's a bit too sloppy with facts and associations.
Fedaykin wrote:
In one of his movies, he claims the FEMA has concentration camps ready for incarcerating tens of millions of Americans.
At first, I was happy to hear about his activism in general, but I've started to feel he's a bit too sloppy with facts and associations.
Sorry to be rude, but, PLEASE wake up you people, cant you see it all happening?
Or is it just too frightening for your minds to accept?
Heres Haliburton admitting they got the Government contract to build even more of these camps
http://www.halliburton.com/default/main/halliburton/eng/news/source_files/news.jsp?newsurl=/default/main/halliburton/eng/news/source_files/press_release/2006/kbrnws_012406.html
Do some reasearch, just like Alex does!
Heres some more views
http://www.sploid.com/news/2006/02/halliburton_bui.php
http://www.abovetopsecret.com/forum/thread204156/pg1
Maybe you can do a search of Google Vid or you tube to see the film where this couple breaks into one of these camps, well a converted railway engineering yard, where they film the human cattle runs, the gas tight seals on the hangers, the new gas cyclinders bolted to the sides.
The New World Order is coming, and these camps arnt for mexicans, or terrorists, they are for Americans that refuse to submit to the coming world dictatorship.
Come-on guys, this isnt so far fetched that Hitler didnt do it!
militarybrat
Deinonychus



Joined: 22 Aug 2007
Age: 33
Gender: Female
Posts: 348

I personaly think this guy likes conspiracy theories too much and is wrong. I've done research on both sides of the 'vaccine causes autism argument' and find that the opposition to this claim is more accurate. There is no epidemic, vaccines do not cause autism or autism spectrum disorders, and there is no cure.
becca423b
Yellow-bellied Woodpecker

Joined: 23 Sep 2007
Age: 33
Gender: Female
Posts: 71
Location: Wisconsin
Hi! Guys, I'm sorry this post is so long, but I am passionate about this issue: I am a fourth year nursing student who has personally given vaccines to kids. As a nursing student, through my university I have access to basically all major medical journals. Medline, Cochrane, NursingConsult, MDConsult databases are all at my fingertips. There is NO evidence to suggest that childhood vaccinations are in any way related to autism. Furthermore, denying a child their vaccinations can result in serious diseases such as geman measles, rubella, hepatitis, polio, and a variety of others.

I have taken a course on pediatric nursing in which we had an entire lecture dedicated to vaccines, and a whole different lecture devoted to developmental disorders like autism and aspergers. The professor, in both of these lectures specifically addressed this issue. I myself have gone to MDConsult and searched for articles. There is a vast base of knowledge that says there is NO connection between vaccinations and autism.

My father is a school psychologist, and just took a 3 credit summer class on autism and aspergers in which they covered what they believe the causes are. In a nutshell: nucleic acid base pairs! It's genetic. My father says that one of the most difficult parts of his job is having to tell parents their child has a disorder. And parents want to find someone to blame! They think: hmm….my child developed symptoms right around the time they got their vaccines, huh….must be the vaccines! Parents are desperate and want answers. That is how this myth of vaccines causing autism got started. The thing is, autism simply presents itself at age 18 months: kids literally go backwards in their language skills, and it's very difficult for parents!

For a nurse, it is a very important part of one's job to educate people about their health conditions. I tell people: the internet is a great resource, but you have to go to the right, credentialed websites! There is a LOT of complete trash on the internet, as I'm sure we all know. You cannot believe everything you see online because there are a lot of snake oil salesman out there. It is a part of my dad's job and my job to educate people about what information is good and what is complete junk. And this guy sounds like complete junk to me, if he is trying to make the case that vaccines cause autism!

Plus, telling people not to get their flu shot is terrible! It's really important that people at risk (the elderly, those with compromised immune systems) get their flu shots!! !! This is very important!! !! Flu shots do NOT have really bad side effects: your arm will get sore, that's about it. I think once someone was allergic to eggs and there was a problem, because the vaccines are made in eggs. You also can't get a flu shot if you've ever had guillaine-barre syndrome.

As for mercury not crossing the blood brain barrier in women, or that women absorb less in the gut, that is false. Our absorption of mercury is the same. Once again, sorry for the long post, but it's really important that people get vaccinations!! !! !
nominalist
Supporting Member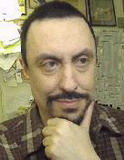 Joined: 28 Jun 2007
Gender: Male
Posts: 2,945
Location: KC area (born in NYC)
The problems with Alex Jones are that he is a "true believer" and a far-right nut. He has already made up his mind that there is this great Illuminati conspiracy. He is then willing to accept virtually any far-fetched idea if it supports the alleged existence of this Illuminati.

Cheers,

Mark