Diff between tourettes and stimming?
Page 1 of 1 [ 6 posts ]
GumbyLives
Veteran


Joined: 30 May 2010
Age: 58
Gender: Female
Posts: 768
Location: LV-426
I'm trying to understand the difference between tourettes and stimming. I have ASD, and I do stim like with hand rubbing and rocking and such. But sometimes I do face stuff when I'm under a lot of stress or in a loud environment, too. Like blinking, squeezing my eyes shut and sniffing, grimacing in a twitch-like manner, etc., all fairly quickly and repeatedly until I'm out of the loud environment, need to hide it because I'm around unsupportive peopled, or out of big stress again.

Is this just different stimming, or is it tourettes kicking in at times too?

_________________
I would rather have my liver pecked out by a giant crow than spend a day at the mall. But I'd pay money to see a giant crow eat a mall.

Your Aspie score: 155 of 200 * Your neurotypical (non-autistic) score: 49 of 200 * You are very likely an Aspie
Raziel
Veteran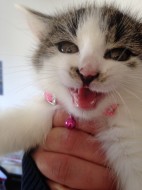 Joined: 25 Oct 2011
Age: 35
Gender: Male
Posts: 2,704
Location: Europe
For me it sounds more like Tourette-Tics.

Tourette:
You can't control it less, you "have" to do it, it doesn't relax you like stimming. Also it's more the muscels in the face, while stimming are more often the entire body, or hands and feed. (You can also have tics with the hand and stimming in the face).

But tics also fluctuate. So you might have a tic just for a fiew months for example, while you can still do the same stimming (like ricking) even after years.

_________________
"I'm astounded by people who want to 'know' the universe when it's hard enough to find your way around Chinatown." - Woody Allen
VixenDraws
Butterfly


Joined: 4 Jun 2016
Age: 21
Gender: Female
Posts: 10

Tics become worse when you're stressed or overwhelmed. But generally, I've never seen tics where you have to rock back and forth unless your Tourette's is pretty bad, or it's just a repeated movement of you jerking forwards. And we can discount Clonic and Dystonic tics because they require you to be still. I've found that I equally tic and stim in a sensorally overloading environment, such as a convenience store. I flap my hands, bang on my chest, and because I'm on medication, my main tics are merely jerking and facial twitches. Though, I do find it difficult to differentiate stimming from ticcing sometimes because my tic urges aren't very pronounced anymore. My rituals, stimming and ticcing tend to meld together as one big blob. I tend to tell them apart by arguing that stimming calms me down, and ticcing is just a compulsion that stresses me out. (... which makes me tic worse...) but generally, I only stim to survive a situation that I'd normally melt down in.
Hermissinglink
Tufted Titmouse

Joined: 3 Jul 2016
Gender: Female
Posts: 39
Location: Oslo, Norway
TheEndIsNearUs
Butterfly



Joined: 9 Sep 2016
Age: 22
Gender: Male
Posts: 15
Location: Texas
Tics aren't necessarily caused by tourettes, and some individuals experience them from other neurological issues. In fact, they are a less-common symptom of autism.

Tics differ from stims because stims are a response to a need for, well, stimulation. They are sometimes intentional and sometimes not, and are used to express emotion, to lessen anxiety or boredom, or to satisfy the craving for a certain sensory input. Tics, on the other hand, are uncontrollable, and are more akin to twitches than stims.

For instance, when I am anxious or frustrated, I will pace very quickly back and forth. This is a stim, because, though I am not thinking about it, I am expressing my emotions and attempting to physically release my stress. However, I experience a tic which involves the muscles in my neck randomly spasming and causing my head to jerk to the left, sometimes violently. The first, though not exactly "controllable," has a clear source and execution, unlike the latter.

I hope this makes sense.

_________________
Beep beep, all aboard the idiot wagon.

End ★ 20 ★ Male ★ Capricorn ★ ISTJ-T
nobodycaresaboutme
Blue Jay

Joined: 13 Sep 2016
Gender: Male
Posts: 78
Location: new york
Page 1 of 1 [ 6 posts ]
Similar Topics
Diff between tourettes and stimming?

in Bipolar, Tourettes, Schizophrenia, and other Psychological Conditions

23 Dec 2012, 9:15 pm

Matto

Tourettes, stimming, what?

in Bipolar, Tourettes, Schizophrenia, and other Psychological Conditions

15 Oct 2011, 12:56 pm

Xelebes

Tourettes or Stimming?

in Bipolar, Tourettes, Schizophrenia, and other Psychological Conditions

21 Aug 2017, 2:34 pm

Andrewdar

Stimming and Tourettes

28 Dec 2006, 7:38 pm

paulsinnerchild