Page 1 of 1 [ 7 posts ]
I have had many trying times for about as long as I can remember. But so has the world at large. I feel as though everyone deals with the same problems and issues in a collective sense. I have kind of excepted that just because I see it one way doesn't make it so. And doesn't mean that I have the answers. I have however put a lot of thought and time into getting to this point of ease in grasping and releasing. To the cost of acquiring a fair amount of regret and lack of progress in relation to my peers (I'm 23). I want to put my ideas and feelings out there. I want to see for my self if I can help others with my perspective, or if I am just totally fuct. This is an amazing time to be alive. Is it the right time for an abstract novel to interpret the sad now we're in and how because of it we can open more minds in a shorter time than every before. What would you all like to see in a novel? Is it really dead? Is the new medium for change some where else? In spoken word? Is the wall too high? Or am I just crazier than a rat in a tin shitt house?
Veresae
Veteran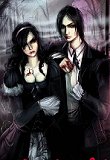 Joined: 24 Feb 2006
Age: 31
Gender: Male
Posts: 3,452

Yeah that's kind of the feeling I get too. I would say 1 out of 20 people my age on myspace (great gage right) have any interesting books listed. It usually is just one or two if they have any at all. I think reading can really speed up the growth of an individual. Many people interpret grow as getting old. I see it as figuring out how to stay young. I've just had a lot of ideas in my head. When I converse with other people I find myself talking about theoretical dream, hopes for humanity and the little intuitive things under the surface a lot. I think if I wrote it out it would be helpful for me and maybe if I'm any good others could get something out of it. I'm not sure about how to go about it. Stream of consciousness style, kind of Finnegan's Wakesque? I definitely want to play with the whole epic/novel thing. Don't want to bite of more that I can chew though. Or confuse readers. I would have to be something that would keep someones attention through out with no let up, because that's the feeling of we live in, with 30 sec advertisements and all. Don't want it too long either. No filler. Just content. Real tight. I have few friends at the moment. They all gave up on me and my introspective pondering I think. It causes my lack of confidence. I have a hard time starting and finishing anything. If I do this it could either push me further down or boost me up. I can talk myself out of just about anything. Feed my ego. Tell me I should do it. Ask me questions. Something.
yeah. I just need to do something. I mention the ego thing just because I feel like everyone just ignores my thoughts and never gives me any peace of mind. Its like telling a child not to do something instead of helping them correct their behavior. I'll start working on a story line and maybe post a rough idea of what I come up with.