what fictional characters are you like?
ruveyn
Veteran



Joined: 21 Sep 2008
Age: 83
Gender: Male
Posts: 31,726
Location: New Jersey
SingInSilence
Snowy Owl


Joined: 5 Aug 2009
Age: 28
Gender: Female
Posts: 135
Location: Canada
sbwilson
Pileated woodpecker

Joined: 10 Feb 2009
Age: 44
Gender: Female
Posts: 187

I'd say I'm like Squidward. ...a perfectionist, negatively sarcastic, obsessive...

My son is Spongebob ...full of wild ideas, high energy level, very repetitive, quite naiive...

My spouse is like Patrick ...takes things as they come, head in the clouds, says things way out of context.


So basically, we are the new Bikini Bottom.
CyclopsSummers
Veteran


Joined: 21 Jun 2008
Age: 32
Gender: Male
Posts: 3,307
Location: The Netherlands
Tory_canuck wrote:
[youtube]http://www.youtube.com/watch?v=_RaQIUmQCco&feature=PlayList&p=98CE54693C0A768B&playnext=1&playnext_from=PL&index=6[/youtube]


I can relate to both characters in the battle personality wise.
I always felt drawn to Trowa, myself. Silent and odd. He was my favourite on the show, and I felt a bit cheated when he went M.I.A. for over a dozen episodes following Quatre's bout of craziness in the Wing Zero.
I don't know that I'm much like a particular fictional character, but Cyclops from the X-Men was always a character I could relate to. When I was little, while other kids favoured Wolverine for being rebellious, I liked Cyclops' sense of responsibility toward the people he's protecting as a superhero, and the teammates under his leadership. But it was when I read an 80s issue of X-Men, issue 148, that I felt he was a character who REALLY resonated with me, because in it, he thinks to himself, after upsetting Captain Forrester, with whom he shipwrecked on an island, and who's developed feelings for him:
"Brilliant. I'm alone and deservedly so. When I put my mind to it, I can be a real creep. I never had this problem with Jean. But then, she was a telepath. She could read my thoughts, sense what I really meant. I'm not used to dealing with people-- outside the unique, high-pressure environment of the X-Men. That's partly why I took this sabbatical. To learn."
I already related to Cyclops and his broody, moody moods in the issues I had read in my then-meagre collection of X-Men comics, but this was the thought bubble that put it down in words. He can be unintentionally abrasive, he could only have a meaningful deeper emotional bond with someone who could literally read his mind, and he's awkward around people, but wants to learn how to interact with them nonetheless.
Hence the username, hence the avatar.

_________________
clarity of thought before rashness of action
Electric_Kite
Veteran


Joined: 20 Aug 2008
Age: 44
Gender: Male
Posts: 588
Location: crashing to the ground
cosmiccat wrote:
ProfessorX wrote:
Cosmiccat, in regards to your question about my avatar? It's simply a painting from surreal artist Jacek Yerka, as I've always been a fan of his work for 15yrs now and even though I'd like to have some of his paintings they're way too expensive.Neverless, I chose one of his pieces to use as my avatar for, I've been a fan of surreal art for many decades now..
Thanks. I'll look Yerka up and see if I can find any more of his work.
You might also like some pieces by Patrick Woodroffe.
anxiety25
Veteran



Joined: 4 Aug 2009
Age: 39
Gender: Female
Posts: 820

Larry David from "Curb Your Enthusiasm" FOR SURE.

Also... I can't remember the guy's name, but the main character in the movie Memento (which is ironic that I can't remember his name since the movie has to do with his problems with memory). I have notes written all over the place, things I'm supposed to do, Dr. appointments, lists of crap all over the place, notes on what I'm supposed to do next.... I even have found myself writing down small shopping lists (2-3 things maybe) on my arm in ink just so I won't forget if I have nothing else to write it on. My short term memory is TERRIBLE.... the only difference is, my notes have never lead me back to figuring out something bad I've done, lol, and I often misplace them.

My boyfriend often comments on this, as I have charts and lists and post it notes all over the place all the time.

Oh, and of course Joon from Benny and Joon... I don't have quite the same problems and quirks, but can relate to a lot of them because I'm pretty quirky about different things to the same extreme at times.

I remember when I first saw "What's Eating Gilbert Grape?" I was able to relate a lot to Arnie at the time... I'm not sure if I still would if I watched it today or not though.

I can also relate to Robert, Raymond's brother in "Everybody Loves Raymond", when he walks in the door and everyone ignores him for the most part, he gets left out of stuff, still lives with his parents and all, failed relationships, etc.

Otherwise I'm fairly limited to cartoons with the kids now. I can relate to a lot of the spongebob characters... and Lazlo from Camp Lazlo, as well as the little guy who has all the allergies because of all my health issues-can't remember his name... some of the characters from Foster's Home for Imaginary Friends.
nothingunusual
Veteran


Joined: 22 May 2008
Age: 31
Gender: Female
Posts: 563
Location: Belfast, Ireland.
We need more House-like people in the world. More outwardly soulless jerks rather than soulless jerks with false manners.

I appear to be like Daria Morgendorffer (Daria) crossed with a sober Bernard Black (Black Books).

_________________
For time has imprisoned us,
In the order of our years,
In the discipline of our ways,
And in the passing of momentary stillness.
We can see our chaos in motion.
ed
Odd Duck


Joined: 19 Dec 2004
Age: 75
Gender: Male
Posts: 1,878
Location: Whitinsville, MA
There was a facebook poll on this subject I took the other day. It was a very good test, and I think the results were pretty accurate. This is what it said:


facebook wrote:
Ed completed the quiz "What Famous Literary Character Are You?" with the result Guy Montag from Fahrenheit 451!.
You are Guy Montag from Ray Bradbury's most renowned classic. All your life, you've felt something was wrong in the way things are done. The idea of going with the status quo offends you. You want, more than anything, to change the way the world works. The only problem is, you don't really know HOW. Despite all your revolutionary urges, you're not sure how to bring about the change you so desperately desire. So you act on impulse. You make spur-of-the-moment decisions and often end up in danger. People don't understand you, but you wish they would. You want everyone to see things through your eyes. You certainly wish you could make the world a better place, but whether or not those wishes will transform into notable actions remains to be seen..

_________________
How can we outlaw a plant created by a perfect God?
jocundthelilac
Veteran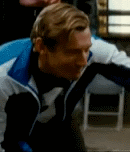 Joined: 29 Apr 2009
Age: 28
Gender: Female
Posts: 1,541
Location: Maggiland's vital regions :P