Page 1 of 1 [ 4 posts ]
user1001
Sea Gull


Joined: 1 Feb 2011
Gender: Male
Posts: 249

I am male and 17 with ASD/AS and none comes up to talk to me in my school I am really lonely. I don't have any friends but I have many aquaintences. There are clubs at my school but I find them boring and I don't like to change my scedual. I can go the whole day without talking to some one and that is really annoying. I want to make friends but I don't know how. I often get so bored that I start to daydream and fantasize in my head. I have never been invited anywhere after school or I have never had anyone come up to talk to me. I don't know why I am so unpopular I would like to know is there a way that I can be more popular with other people? I am a junior just to let you know.
Chronos
Veteran


Joined: 22 Apr 2010
Age: 40
Gender: Female
Posts: 8,698

Provided you've been at the same school for a while, I'm sure there are people in some of your classes who've you've seen around and who have seen you around.

You can go up to one of them and strike up a conversation. You might just say "Hey, I've seen you around a lot. I'm (insert name). Just thought I'd say hi."

Or ask a question about the homework. Or make a comment about the class.

I wouldn't strive to be popular. Maybe just to accumulate a small group of friends.
AstroGeek
Veteran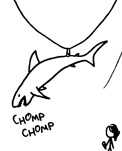 Joined: 28 Jan 2011
Age: 26
Gender: Male
Posts: 1,582

Quote:
I wouldn't strive to be popular. Maybe just to accumulate a small group of friends.
Agreed. Popularity is over-rated (not that I've ever experienced it to know). I really can't give much advice because whenever I've made friends it's just happened--I didn't plan it. But are there any people who are in most of your classes. Those were the people I came to be friends with.
Philologos
Veteran



Joined: 21 Jan 2010
Age: 77
Gender: Male
Posts: 6,985

I would not worry about clubs - never did me anything, they are usually for the clubby people.

17 may, sorry to say, be a bit early to acquire friends my experience they did noty exist for a few years past that.

But look around. In one of your classes or the lunchroom or the bus ride home there may be one or two, tending to sit alone, maybea litle laughed at, who from a distance will feel right - right kind of expressions, saying things that work for you.

If there is,, you could start standing a bit closer, sit at the same table.

I don't think anyone can promise anybody popularity, buta couple good friends is not impossible.