Page 1 of 1 [ 5 posts ]
I have an orange tabby which is very much like an aspergian, dealing with him makes me realise how difficult it might be at times to deal with me. We're out of sync too, when he wants to cuddle i don't, vice versa. Either way, i try to do well by him.
To keep story short, i've got two boxes with towles in them lying on the porch one for my cat and another for the wild one who has realized there is food to get here. Now this wild cat is one of the stupidest, or one of the cruelest cat i've ever met...

First i had one box for my cat, wild cat kept taking it
Brought out another and things seemed to go well. My cat however wants less and less to come inside.
I brought out a camping chair which my cat loved, wild cat stole that too.
Covered up my cat's box with a chair and a towel, wild cat stole that too. My cat went to wild cat's box.
Covered up wild cat's box with a chair and a towel, wild cat went back.
My cat started liking to sleep on the chair above his box, wild cat went back to my cat's box.
My cat went back to the wild cat's box and slept on the chair there, wild cat takes the chair the next time or the box.
I want to kick that cat because i know my cat prefer to get the same spot over and over. And it seems like my cat gets uncomfortable with the other one taking his places and walks off. It's like a sociopathic game this. *lol*
It's gone back and forth in such a way that the wild cat seems to want to take the places my cat likes. So i've been going out dragging the wild cat to his box over and over. But a few seconds passes and he heads back. Now it seems like my cat is starting to give less s**t about it, so whenever he sleeps on the chair over his box, the wild cat scoops up my cat's box.
Should i keep on heading out there to throw the wild cat back to his spot? Will he eventually learn you think?
the_curmudge
Veteran


Joined: 21 Aug 2010
Age: 70
Gender: Male
Posts: 612
Location: Florida
It sounds to me like you have two cats and they are working out dominance issues between themselves. They don't understand that in your mind, one cat belongs to you and the other is "wild". They don't understand that in your mind one owns one box and the other owns another. If you only want to own one cat, you need to stop feeding and otherwise providing for the "wild" one, and you need to chase it away whenever you see it. This won't be easy now that it believes it has a home. Alternatively, you could just accept that you now own two cats, and let them decide which one rules.
gadge
Veteran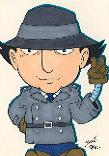 Joined: 20 Mar 2011
Age: 56
Gender: Male
Posts: 805

maquaii wrote:
Yeah i figured it was dominance issues, but they usually tolerate each other, eat from the same bowl and what not. I've been feeding the wild cat for 2 years, can't go chasing it away now.
2 years....What you have is one inside cat and one outside cat with "border dispute" and "right of ownership" issues

.
Was one box better than the other ?

from the cats POV. Its just their way of "one up manship", just like kids with toys.
You should of seen the head games my neighbors border collies played on each other.
Unbelievable!!
My cat is now only in during winter, and i do let the wild one in when it's very cold outside. I was wondering if one box was better then the other, so i kept trying to compensate, but they should be equal now. One of them left a nice pile of s**t on one of the chairs though....... =/