Page 1 of 1 [ 5 posts ]
Jetfox
Veteran


Joined: 12 Nov 2005
Age: 33
Gender: Female
Posts: 1,620
Location: the black hole
that i have pics of on my harddrive at least.

[img][800:750]http://i10.photobucket.com/albums/a102/ansemfan/kittyasherself.jpg[/img]
kitty the newest, the renters cat that i took in. she is the friendliest cat i've come across, and she loves to lick alot. she is getting quite spoiled sense i got into the basement and she pretty much has a perment home now. she has a bit of a hard time breathing at times but we are working with the vet to help her.

[img][800:750]http://i10.photobucket.com/albums/a102/ansemfan/kirbyandcocoainmyroom.jpg[/img]
kirby is the orange tabby in the back, he is no longer with us, but i couldn't not put him up. my he rest easy where ever he is. he was friendly but really picky about his food he ate what he wanted and would whine if you gave him something he didn't want. he was mostly layed back and lazy, he liked to let you know he was there, and he always slept on that blanket on my bed. i still have the blanket out of respect for him. he was annoying at times but he was friendly and patient with younger cats, he was extremely tolerant of what ever you did to him as long as it wasn't mean, loved to have his belly rubbed and he purred more then any other cat i ever knew. he was spoiled rotten and i'm sure he didn't die angry.

cocoa puff is the long hair siamese looking cat in the front, he is a rare pure breed called a Balinese i think, he's dumb but loving and friendly as anything could be, gentle as well wouldn't hurt a fly. he loves being petted or having any attention he can get, he can get annoying because he begs for attention by getting right in your face literally, he's kinda dumb he used to sniff a lightbulb that was on and get his nose burnt over and over, he also eats things he shouldn't so we do our best to keep him from getting to things he would try eating, or from getting the things he might eat.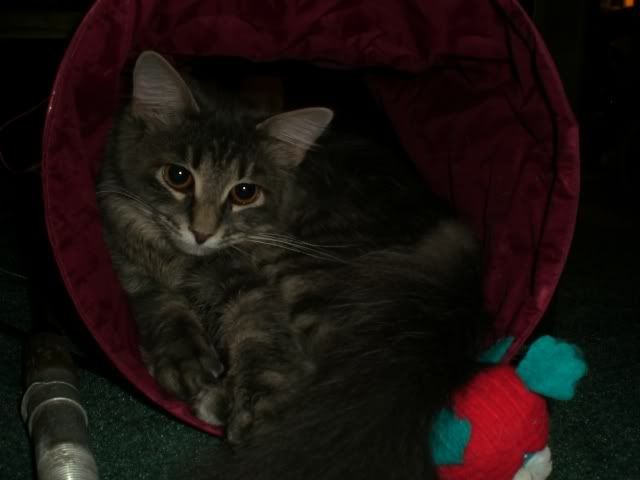 shaylin is the little kitten my mom found under one of our trailers, she is one of the many cats that were let out of the trailer across from us. when we found her she was nearly dead, and she had a hole in her neck and was getting eaten alive by fleas, we fed her and cared for her till she was healthy again. she also changed from a short hair to a long hair once her fur started growing in. now she is a self proclaimed queen, she doesn't obey any commands unless she wants to, she is friendly as long as you don't pick her up. she is a cat but still has that kitten-like face, she also has my exact eye color and my stubborness and strong will. she is tough and independent she picks on cocoa daily only to play but he is getting old and doesn't play much anymore. he hisses at her and she just pounces on him again. her and cocoa have a strong bond dispite their rivalry, because he cries when he can't find her.

_________________
"It's the song of destruction a requiem of the end" jr in xenosaga III
Sparx
Veteran


Joined: 23 Oct 2011
Gender: Male
Posts: 2,186

CockneyRebel
Veteran


Joined: 17 Jul 2004
Age: 45
Gender: Male
Posts: 102,107
Location: In a quiet and peaceful garden where Mick Avory-like Sweet Peas grow
Those are both beautiful cats. :O)
Ganondox
Veteran


Joined: 7 Oct 2011
Age: 24
Gender: Male
Posts: 5,734
Location: USA
Both these pictures are months old and very out of date, as well as not being very good pictures/


The Cat (Sagwa)


The Kitten (Zorro)
Jetfox
Veteran


Joined: 12 Nov 2005
Age: 33
Gender: Female
Posts: 1,620
Location: the black hole
that white cat is pretty i like the grayish point on his nose, he also looks like he's a bit spoiled there.

not that that's a bad thing, we spoiled all our kitties.

i had kirby for a long time as well i don't remember how old i was but i had him for 14 years.

the siamese is cute looks like she got distracted there, her kitten looks very curious probably got behind that table or whatever he's behind just to see what was back there.
siamese have those pretty blue eyes, cocoa has blue eyes like that too, you can't see in my pics because the flash seems to make his eyes glow red no matter what.

_________________
"It's the song of destruction a requiem of the end" jr in xenosaga III