OliveOilMom
Veteran


Joined: 11 Nov 2011
Age: 56
Gender: Female
Posts: 11,447
Location: About 50 miles past the middle of nowhere
Stay off the beltway at all times, but especially during rush hour. Parking in Georgetown is worse than anywhere in DC. Try to take back roads if you can, even if that means going out of the way. If you get confused or lost, pull over completely off the road, people will rear end you easily there. Stay in the right hand lane as much as possible, and don't be switching lanes a lot in traffic because people up there drive crazier than people in Atlanta.

God help you, I hated driving up there and I was only there less than a year.
_________________
I'm giving it another shot. We will see.
My forum is still there and everyone is welcome to come join as well. There is a private women only subforum there if anyone is interested. Also, there is no CAPTCHA.

The link to the forum is
http://www.rightplanet.proboards.com
tall-p
Veteran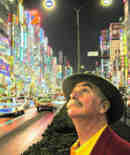 Joined: 25 Dec 2010
Gender: Male
Posts: 1,155

Jay27 wrote:
So, are there any tips you can give me? Driving or non-driving aspies, just anything you can think of.
I lived in the Washington, D.C. area (from Springfield 1960, to Columbia, Md. 72-92). My advice is to keep your chin up, and look down the road as far as you can.

_________________
Everything is falling.
Atomsk
Veteran


Joined: 9 Apr 2008
Age: 32
Gender: Female
Posts: 1,423

Jay27 wrote:
Thanks everyone, i appreciate the feedback. I actually practiced again today, and its a lot easier than it felt the first few times. No anxiety attacks, thank god.

Obviously, the more i practice the more comfortable ill get, it just sucks that the traffic is so bad where i live.
Practice is all it takes, really. Once you get used to all these sensations, you become less prone to overloads and such on the road. I didn't get my license until I was 22, and I had a permit since I was 14, with practice starting at about 16, and fizzling in and out year to year.
169Kitty
Sea Gull


Joined: 24 Dec 2011
Age: 43
Gender: Female
Posts: 214
Location: Minnesota
Get lots of off-peak hours driving time in before you drive during peak hours.

Use cruise control when appropriate. I use it when I'm on the freeway or any other long road with few or no stops. It frees me up from having to look at the speedometer then I can pay more attention to the drivers around me.

If your parents have a AAA membership make sure they get you a card. If they don't tell them to get a membership. Having a AAA card allays any fears of what you would do if your vehicle broke down, got flat tire, won't start or you lock your keys in there. If you use it once it pretty much pays for itself. I purchased my membership the day before I ended up needing to use it. The tow to the AAA approved shop was free and I got a 10% discount, a $65 membership saved me over $200 the day after I bought it. The peace of mind is worth it. One less potential distraction.

I agree with the person who said, no passengers. I get very distracted when I have passengers.

Practice getting on and off the freeway during off -peak times

Turn your cell phone off or put it on vibrate so you don't get distracted by it. And absolutely no texting or talking on the phone while driving!!

_________________
AQ: 42
EQ: 19 SQ: 58 Extreme Systemizing
Your Aspie score: 155 of 200
NT score: 51 of 200
You are very likely an Aspie
Suspie
Velociraptor


Joined: 6 Feb 2012
Age: 48
Gender: Female
Posts: 478
Location: Kent, UK
layla87
Toucan


Joined: 10 Oct 2011
Age: 32
Gender: Female
Posts: 261
Location: Kitchener, ON
Hermier
Deinonychus


Joined: 24 Jan 2010
Age: 63
Gender: Female
Posts: 314
Location: Cyberspace, USA
just-lou
Toucan

Joined: 6 Aug 2010
Age: 35
Gender: Female
Posts: 252
Location: Sydney, Australia.
I never got the whole aspie-fail-at-driving thing until recently - when I went to learn to drive a truck, and WHAM. And I drive my car fine, always have. So, if you're starting out, start in something small, like a hatchback? Maybe problems with dimensional awareness come into the whole aspie problem with driving?
Cryforthemoon
Snowy Owl


Joined: 20 Apr 2010
Age: 40
Gender: Male
Posts: 153

Atomsk wrote:
Here are some things that helped for me. Took me years of trying to drive to figure much of this out.

-I always make it clear to everyone in the car that loud noises can make me lose control of the car.
This was one of the reasons I couldn't drive for years: the people teaching me would always raise their voices, making it impossible for me to follow their directions or keep control of the car. Literally had to stop in the middle of the road several times. I fixed this by telling the people teaching me, that if they raised their voice I'd literally stop wherever the car was and get in the back.
I never did this but at the time I had no idea about aspergers so...
Atomsk wrote:
-Always have sunglasses.
Even up here in Alaska where the sunlight comes in at a shallower angle, and thus is weaker, the glare is far too strong for me to see during the daytime. It can easily get overload-strong, even. Light reflecting off the snow in winter doesn't help. A good tip is to drive at lower light times of the day. Night driving works too, but it has it's own light problems, i.e. the other people's headlights.[/quote]
I really know how this feels. Most of the time I do drive it's when the sun is not right in my eyes. If it is my heads starts to hurt and I put on my sunglasses.
Atomsk wrote:
-Beware of other people's headlights.
Other people's headlights are often unbearably bright, especially when they are directly behind you. Same for the people going the opposite direction. This can be helped by avoiding poorly lit, but high traffic areas at night. Also, hopefully your rear-view mirror is the type that you can flip, and have a night-mode for when someone is behind you with ridiculously bright lights.
I have noticed that even if they have there dims lights on it's still to much for me. I also really dislike when people get right up on top of me with there lights on.
Atomsk wrote:
-If you listen to music: learn how to use your MP3 player/whatever without looking.
Kind of a skill everyone should have, anyway.
I always make sure my iPod is hooked up. I also have made sure to program in the stations I listen to and I don't even have to look at them.
Atomsk wrote:
-Look up directions before you even set foot in your car.
Also be aware that google maps can lie, so double-check. For very visual people, Google maps works greatly in satellite mode, as does street view.
Not only do I need to look up directions I need to know the right roads to take and I don't like when people tell me to look a Wendys or whatever and I will know when to turn.
Atmosk wrote:
-Consider getting a good GPS
This can give you audio instructions as you drive, takes the pressure of knowing the right way off.
Yeah I need to get one.
Atmosk wrote:
-Do something to keep yourself focused on the road.
Be this music, singing, whatever. Just don't space out. Try to avoid driving when tired.
I was going home from work one day so tired it felt like I would never get home. It's only a half hour drive for me but it felt so much longer. Not fun at all.
Atmosk wrote:
-Do all you can to reduce chance of overloads.
Do what works for you. I often listen to audiobooks while driving.
Not always easy to do.
One thing I will add to this for those that work try to find a way to work with less people on said road. That way you won't have a lot to worry about. I never like driving on the freeway way to many people the one time I did it I hated it I was with a friend and I said I would drive to the movies. On the way back it was snowing so I had him drive. Either way try to find roads with less people or were you can go at you're own speed.
soozzi
Hummingbird



Joined: 17 Feb 2012
Gender: Female
Posts: 19
Location: Australia
I try to avoid traffic, but have recently moved from a rural area back to a populated area and it's taken me nearly a year to feel a bit more confident. I'm a good driver, but traffic still freaks me out even after 40+ years of driving.

You wouldn't read about it but I think I moved close to the biggest intersection in this area. To get anywhere, I have to go through it. I have totally unreasonable and illogical fears about it (which I recognise), but I refuse to go anywhere near it during peak traffic times.

Something no one has mentioned is that I try to keep all my car windows shut. The traffic noise grates and I find it very distracting and annoying. Strangely enough, I like the sound of a Harley Davidson. Go figure.

Obviously, you need to figure out what's going to make you comfortable driving, but shutting the windows certainly helps my stress levels.