ASD as a Rising Subculture
JakobVirgil
Veteran


Joined: 15 Feb 2011
Age: 46
Gender: Male
Posts: 3,744
Location: yes
VAGraduateStudent wrote:
naturalplastic wrote:
Its not impossible that something like that could be happening.

Look at the passion aroused on the TV Forum here about the seemingly inane subject of the character Sheldon on the "Big Bang Theory". A minority of posters hate the show and are insulted by the character, by a 100 times more people love the show and the character (who is not described on the show as being an aspie but is nontheless a kind of characture of an aspie in his behavior).

Either way- insulted or impowered- by the sitcom character it shows a group awareness.


That Sheldon character bothers me, but if I accidentally leave the TV on and end up watching some of that show, I admit I laugh at the aspie jokes. But then I'm not sure if it's okay for me to laugh. In some ways I feel that Sheldon is a Jar Jar Binks, shuckin' and jivin' for the neurotypicals.
But Natural Plastic is saying, it shows that there are characteristics that people recognize as "autistic" or "aspie", even if they are not identified as such. I have read a study about this. It's called "Performative Acts of Autism" and it's by Jessica Lester and Trena Paulus, although I don't think it's available for free online yet. Basically it showed that the parents of autistic kids were aware of "autistic traits" that they either said they're kids DID or DIDN'T have, thus proving that the "autistic look" is commonly known at this point. They said things like "Oh Stevie doesn't look autistic but he does sound a little autistic."
I have a buddy who hangs around here sometimes he calls that show nerd-face in analogy of black-face he loves Moss on the IT crowd though.
_________________
?We must not look at goblin men,
We must not buy their fruits:
Who knows upon what soil they fed
Their hungry thirsty roots??
http://jakobvirgil.blogspot.com/
ruveyn
Veteran



Joined: 21 Sep 2008
Age: 84
Gender: Male
Posts: 31,502
Location: New Jersey
nominalist
Supporting Member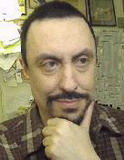 Joined: 28 Jun 2007
Gender: Male
Posts: 2,667
Location: KC area (born in NYC)
ruveyn wrote:
Is there an autism community? Autism is a condition. Is there a near-sighted community?
There is an online Autistic community, as I would define it, but it is still too fragmented to talk about a subculture.
If people had sufficient interest to set up message boards, chat rooms, and advocacy groups for near-sighted people, I suppose it could become an online community. I am not aware that anything like that has been attempted - at least not on the scale of the Autistic community.