Do you sometimes dream of a very simple life?
Dillogic
Veteran


Joined: 24 Nov 2011
Gender: Male
Posts: 7,770

Yes, snakes bite dogs and cats for the simple reason that they attack the snakes.

Not the snakes' fault there.

Ticks are far more of a concern if you have pets when living in rural areas though.

O, and please, keep your pets within your yard, i.e., fenced areas. Having them kill the local wildlife for no reason is such a waste.
Moondust
Veteran


Joined: 29 May 2012
Age: 59
Gender: Female
Posts: 1,558

I'm not worried the other way round - my cats and all the strays downstairs were dying of hunger when I first started feeding them, although they spend the days sitting on a mattress of a mass of pigeons that are placidly eating bread crumbs left by the neighbors. If there was a chance they might chase something, my salary wouldn't be suffering as it is. Beats me why, but these cats don't know to hunt for a living, much less for fun...

_________________
There are two means of refuge from the miseries of life: music and cats - Albert Schweitzer
Misslizard
Veteran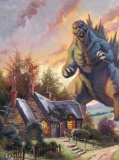 Joined: 18 Jun 2012
Age: 56
Gender: Female
Posts: 14,572
Location: Aux Arcs
Ticks are a real problem,we have all the tick diseases here,I had a dog die from a tick illness,also there is now a deadly disease called Bobcat Fever that has about a 90percent fatality rate in house cats.If you live in an area with bobcats keep your kitty indoors.
And Dillogic is right about the devastation outdoor cats do to native wildlife,feral and outdoor pet cats have made a big dent in the local bobwhite quail here.I grew up hearing them call and my 23 year old son has never heard one.I have 20 little quail that I am going to release when they are big enough,none of my close neighbors have outdoor cats so I hope they make it and reproduce.It's not the cats fault if someone dumps them and they have to hunt to survive, I just wish people would be more responsible for their actions.
Camo
Blue Jay

Joined: 7 May 2012
Age: 53
Gender: Male
Posts: 98

corvusgal wrote:
When I was little I read My Side of the Mountain (which is about a boy who runs away and lives in a hollowed out tree in the woods). I wanted to do that for a long time until I realized I probably wouldn't last a week foraging in the wilderness. Now I dream about living in a tiny cabin in the woods with no electricity or anything and growing my own food (maybe raise some chickens). This sounds very appealing, especially on days when just dealing with the crowds at the grocery store wipes me out completely.
Wow, I also read that book as a youngster, I read it again after finding it in the loft.. perfect life right there !
I work outdoors, always have, I had ex bat chickens until recently... I have told my wife when I retire I will be moving to a small village in the sticks and keeping animals, probably rescue some ex farm animals and let them live their lives in green pastures and that she was welcome to come with me.
She is coming round to my way of thinking now because she realises that I will do this, its not just talk.
I don't want to wish my life away but I have 20 yrs till I retire...
Stu
oftenaloof
Raven



Joined: 21 Aug 2012
Gender: Male
Posts: 112

Stu,
We really need to live out our dreams and passions and desires - otherwise why are we alive? Perhaps we are more in tune with everyone based on our situation and others can't "grasp" the reality of the world and how simple it should be.

Raising some animals to live a true life on a beautiful farm... it sounds amazing. I hope you get that life.
Camo
Blue Jay

Joined: 7 May 2012
Age: 53
Gender: Male
Posts: 98

So true, there is no point unless you follow your dreams... I would have been a Wildlife Ranger / Warden with an old landrover and a dog, stuck on my own all day doing conservation work but alas I also wanted a family, I have the land rover and dog but manage a sports ground instead


It has wild areas at one edge which is bordered by a river so I am satisfied for now, one day though I shall have my dream life !

Who else stares at the stars last thing at night and thinks how insignificant we are ... from a darwinist athiest point of view.


Stu