Page 1 of 1 [ 3 posts ]
ooOoOoOAnaOoOoOoo
Veteran


Joined: 18 Jun 2008
Gender: Female
Posts: 12,265

The state I live is well known for music acts and most of them are famous country singers, a few aren't.
Whenever the state celebrates a well known musician, it's always a country singer. One thing they do is spend government money on them, like this example and this really annoys me big time lol:




This is on interstate 40 in Senator Coburn's district. For those who don't know who he is, he tries to outdo every Republican he can as if it's a contest to him to see who can appear the most conservative. He writes books criticizing frivolous government spending, it's his career. He keeps his eyes on everyone else's cookie jars while ignoring his own, apparently.

and it's the same for Toby Keith and Garth Brooks, only their signs aren't so obvious. They are listed in "things to see" instead of having their own sign.

Now what irritates me about this is not the fact the sign exists it's the way certain US Senators build their careers on criticizing frivolous government spending then they go and spend money frivolously on signs for country artists. And why is it only the country stars get one like they are elevated above everyone else. They act like they are the only ones who are good role models with values just because they sing country songs when they aren't necessarily any better than anyone else.

Who else has to put up with this injustice?
Misslizard
Veteran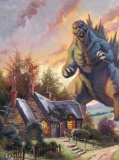 Joined: 18 Jun 2012
Age: 56
Gender: Female
Posts: 14,052
Location: Aux Arcs
It could be worse.The Klan had a This Highway Adopted sign right when you came into Arkansas from MO on hwy 65 for years.Thank goodness it's gone.
I see signs for law officers that have been killed in the line of duty signs,that's ok.
Nebraska has giant billboards with Jesus on them in the corn fields.They had more religious stuff on the highway than Kansas or Oklahoma.

_________________
"Security is mostly a superstition.It does not exist in nature,nor do the children of men as a whole experience it.Avoiding danger is no safer in the long run than outright exposure.Life is either a daring adventure,or nothing." Helen Keller
ooOoOoOAnaOoOoOoo
Veteran


Joined: 18 Jun 2008
Gender: Female
Posts: 12,265

It's the principle. I wouldn't want the Clan or some hate group getting a sign, don't get me wrong. What irks me is the Senator is so against anyone getting any government money. He is so hardcore about it. It's the only thing he does. He doesn't do anything for this state. He is a piss poor excuse for a politician. Instead of going to Washington and getting this state its fair share of government money (which other states are more than willing to take because they are smart enough to realize it's in their best interest and they don't want to be left out) he has built his entire career on whining, complaining and deprivation in one of the most poorest places in the US - Eastern Oklahoma. It's disgusting there. Believe me, I know.
I find this scam reprehensible. It's sad these singers get their signs when everyone else is supposed to go without by God be sure a singer gets her sign though. That is something the world cannot do without I guess. SMH