favorite representation of autism
Page 1 of 1 [ 10 posts ]
jenisautistic
Veteran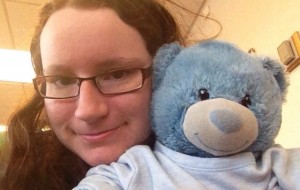 Joined: 21 Jan 2013
Age: 21
Gender: Female
Posts: 1,280

In children's and adult media?

What was you least favorite

I like how jake was portrayed on touch. It's very interesting.

_________________
Your Aspie score: 192 of 200 Your neurotypical (non-autistic) score: 9 of 200 You are very likely an Aspie PDD assessment score= 172 (severe PDD)
Autism= Awesome, unique ,Special, talented, Intelligent, Smart and Mysterious
Aleithei
Blue Jay

Joined: 9 Aug 2013
Age: 24
Gender: Female
Posts: 89
Location: Canada
Quote:
I like how jake was portrayed on touch. It's very interesting.
oooh. me too

. I often read people saying that touch was a horrible show and its portrayal of autism was awful, but i really liked it. Jake was a non-verbal kid, but had a ton of empathy and was ridiculously intelligent, and totally knew what was going on around him, even if it didnt look like it.

_________________
We do not start as dust. We do not end as dust. We make more than dust. That's all we ask of you: Make more than dust.
- David Levithan
KingdomOfRats
Veteran


Joined: 31 Oct 2005
Age: 35
Gender: Female
Posts: 5,313
Location: f'ton,manchester UK
the film; ben x, the experience shown in the film relates well to all the spectrum,unfortunately thats the problem,we shoudnt be able to relate to the sht that went on in the film, from the beginning when the parents and specialists torture the kid trying to get him out of his own world to the brutal bullying and advantage taking from his non disabled peers.
_________________
>severely autistic.
>>the residential autist;
http://theresidentialautist.blogspot.co.uk
blogging from the view of an ex institutionalised autism/ID activist now in community care.
>>>help to keep bullying off our community,report it!
AlienorAspie
Snowy Owl


Joined: 18 Mar 2014
Gender: Female
Posts: 159

I think aspie's are best portrayed in comedy. Our extreme strengths and weaknesses are, im afraid, sometimes just hilarious. People really enjoy watching these extreme characters with their apparently "selfish", quirky or odd behaviour, but see what really lies behind the front. I know its a bit dark to laugh but i think you just have to- I often use the ability to laugh at myself to get out of sticky situations, like "Do I look like a lunatic in these clothes?", when I feel uncomfortable about what I've chosen (this works because deep down I dont care if I look like a lunatic, I just care about how it effects people's reactions to me, so I excuse it before they can make "bad" judgements about me.

I didn't realise why i related to these characters until i discovered 'the aspie thing', but these are TV programmes which I feel are based upon Aspie characters; the secret to their success! :

Arrested development, Family guy/ American dad, Ally mcBeal ( i just remembered how obsessed with it i was as a child), curb your enthusiasm/seinfeld, not the 9-oclock news, blackadder, faulty towers, the young ones, the day today, brass eye, anything at all from chris morris or armando ianucci. I've always thought of my sense of humour as a very "british" one... but i guess, spurred on by spike milligan/ monty python, we are an aspie-sense-of-humour-loving nation. The opposite "extreme" in aspies is the inability to understand this subtle but apparently eccentric comedy, because it involves making very round-about connections to "get" the joke fully. What they portray may just be silly, or rude, but it is the message behind each joke that matters.
vermontsavant
Veteran


Joined: 7 Dec 2010
Age: 44
Gender: Male
Posts: 2,952
Location: The Berkshires
i like rain man.1 because i am old school and actualy when i was 14 the social worker pulled me out of class and drove to worcester,mass to see rain man in the theatre.2nd i also indentify more with idiotic savantism than with aspergers or classic autism.

call me silly and old fashioned but, whatever !

_________________
Idiotic savantism forever
BuyerBeware
Veteran



Joined: 28 Sep 2011
Gender: Female
Posts: 3,622
Location: PA, USA
I can't say much about representations for classical/profound. I have not looked out of those eyes.

As for Aspergers/HFA, there is a book called Mockingbird. The protagonist is Caitlin, a 12-year-old girl with Asperger's. I felt like someone had reached inside my head and picked up 12-year-old me, dropped her/me in a different situation, and wrote about what happened. I'm not sure I have ever felt so understood, or seen so much of myself, in a character ever.

TV?? Hate on me all you want, but Sheldon Cooper from Big Bang Theory cracks me up. I hope I've learned to be less uptight and rigid, but I LOVE Sheldon. Seriously. And Amy Farrah Fowler.

Of course, I'm pretty sure Penny is the only neurotypical recurring character on that show, and if anyone gets the short end of the representational stick, it's her.

_________________
"Alas, our dried voices when we whisper together are quiet and meaningless, as wind in dry grass, or rats' feet over broken glass in our dry cellar." --TS Eliot, "The Hollow Men"
CapriciousAgent
Pileated woodpecker


Joined: 2 Aug 2012
Age: 37
Gender: Male
Posts: 184
Location: Massachusetts
As far as a realistic portrayal of an autistic person, I was surprisingly pleased with Ricky Gervais as Derek in the dramedy of the same name. He is somewhat stunted by his condition, unlike, say, Dr. Cooper, but that is never what is played for laughs. He's well regarded by the other characters on the show rather than being a clueless jerk.
Simmian7
Veteran


Joined: 22 Apr 2008
Age: 39
Gender: Female
Posts: 1,357
Location: Motown
Hikari To Tomo Nii

That's the link to the Japan tv series...which ran 11 episodes.

There is also the manga, With The Light ... which runs 8 books.

both are my absolute number 1 fave portrayals of autism.
_________________
*Christina*
It's like someone's calling out to me. Writing it all down...it's like I'm calling back to them.
(quote from August Rush; but used as a reference to my writing)
---------------------------------------------------------------------------
My ASD AQ score is 42
---------------------------------------------------------------------------
#DemandCartoonDiversity
Ganondox
Veteran


Joined: 7 Oct 2011
Age: 23
Gender: Male
Posts: 5,807
Location: USA
OliveOilMom
Veteran


Joined: 11 Nov 2011
Age: 55
Gender: Female
Posts: 11,897
Location: About 50 miles past the middle of nowhere
Even though nobody has ever said he is supposed to have AS, I think Spencer Reid on Criminal Minds has it and I love watching him on the show. It's pretty subtle, unlike the characters in sitcoms. His character reminds me of Bobby Goren on Law and Order Criminal Intent. Both of them seem slightly AS and I don't think I would see it as anything but just quirky if I didn't have it or know about it myself, so I appreciate the characters. I also like how they don't always have to put it in your face like "Tom Jennings, Autistic Detective" (totally made up but you get the point). I don't like the autism to be the characters only focus, I'd rather it be just a part of who they are, like it is in the real world.

I tried to like Max on Parenthood, and I liked how the actor portrayed him, but I didn't like how he was written. He was written as somebody who is ONLY autistic most of the time. He didn't seem to be able to do much more than obsess over whether or not he was going to do something he planned on doing or whether or not he was going to be made to do something he didn't want to do. He didn't have a lot of depth, but I did like those very few moments where he connected on a more complete level with the other characters and especially when they gave him one or two "normal moments". Then again, his parents were those bend over backwards to never upset my child types, and I think that may be part of why he was written that way. The show was full of overprotective and borderline overprotective parents, and then other parents who didn't know where to draw boundries or respect others boundries. I mean come on now, this one couples school age child they had just adopted was failing his grade and they wanted him to repeat the year and it was such a blow to the parents that they fought about it so much they separated. Really. That's not being concerned and a caring parent, that's being a neurotic crazy. With Max, the parents would go ballistic over things that most parents would have done so over (a guy calling the kid a retard or something in the store, other kids peeing in his canteen on a school trip) but at other times they were completely insane, such as insisting that a sister in law was in the wrong by not allowing him to use the printer immediately when he had planned on it, in the photo store where she was working on a project with a deadline and then being furious with her for telling them he was acting spoiled when he turned stuff over and had a little meltdown and ran off to go home after she said no. I thought it was a teaching moment for the parents to explain to this pretty big kid who you would have thought might have heard this idea somewhere before, that sometimes even when somebody makes plans with you, things can come up and it will happen in life and this was a chance to learn to handle it politely even if you are still upset.

But no. It was all about how Max has so many challenges that it's wrong to add any little bit of adversity to his day, even if it means you don't finish your job by the deadline and have to yet again move back home with your parents at 40 because you have no money. The writers actually had the sister in law apologize for not stopping her work to give the kid the printer for an hour or two just because he planned to print some things that very day. I couldn't decide if it was just written by pantywaist parents or if it was a little bit of satire thrown in there.

I'm not saying that parents of autistic kids can and should do the same things and the same way as parents of NT kids, but this kid was well adjusted from what we had seen of him, and the way they focused on him sometimes, and his trouble with things, I just know that if he had more problems we didn't know about, we would have known about them. In a plot arc with tons of details. So, these parents were about nothing more than smoothing everything over and giving in, not preparing him for the real world. A couple of times I approved of what they did, but most of the times when they interacted with Max it was just a neutral no comment feeling I got, or I disapproved.

I did like how they had the photographer sister in laws shy and awkward boss/ex short term boyfriend/booty call, played by Ray Romano looking serious and older but affable,learn about AS and then start seeing a dr because he thinks he has it. He did fit a lot of things, and could have been somebody who had undiagnosed mild AS but grew up and learned to deal with it via other ways as it's possible to do when it's mild and also when you have no other choice nor even know AS exists, and they followed that storyline through pretty well. It was never a "heart touching moment" where he finds out his "true self" when the very-much-in-demand-but-sympathetic-and-caring-dr makes time in his schedule to start seeing and treating Hank for his possible AS (while obviously skipping over a huge waiting list of kids and adults with confirmed AS who had been waiting months and years to see him, when Hank gets in two days after he reads a book) diagnoses him and he suddenly decides to change everything in his life to be about the AS and then maybe turns his studio into some sort of learning center for kids on the spectrum, which while a nice thing to do and a heartwarming story does leave you to wonder if he would end up moving in with Sarah and her parents as well, because he now had no income either, but it's worth it as long as no kids on the spectrum got their nose out of joint.

Sorry to run on like this. I'm forcing myself to stay up to get my sleeping habits back on schedule.. Over the holidays I've mixed up day and night and right now I'm running on high octane ice tea. Double strong so extra caffiene and extra sugar for the rush. If I dont make sense, remind me and I'll come edit when properly rested. I was basically just venting about the show up in that last paragraph.

Parenthood was one of the Netflix things I watched. I've watched series after series and documentaries on top of reality tv and movies and comedians and whatever else struck my fancy.


Grey's Anatomy had an autistic character on there briefly. She wasn't a patient believe it or not, either! Thrilling, huh? She was a famous heart surgeon. They were trying to woo her to work there. She explained her AS to the gals she was working with who were busy staring in the show and flipping back their hair and scowling, and I thought she did a good job of that, but I didn't like her obsession with rules and her stopping to shrill in surgery about how rules are important. Her voice and tone were very wooden, almost like she was trying to be Rain Man. I can't remember the actress who played her, but I've seen her in other things. The character's name is Dr Dixon. I'm sure you can find which one's she's in on IMBD and watch them on Netflix if you want to.

As for me critiquing actors playing autistic characters, well it's easier said than done I'm sure. Most people who play those roles probably don't know much about AS and either overplay or underplay the character. The writers need to do a little more hands on, or rather face to face research themselves as well I think. All writers for tv, is my opinion. I think movie writers may do more of it than tv writers do.

As for Sheldon, that's a comedy and so the real troubles he would have with and because of his AS are never shown, not to mention it's never confirmed that he has it and probably never will be because of the chance of offending someone. But it's easy to laugh at him and at the reactions of others to his quirks, traits, oddness, arbitrary crap, etc, when the most you see it bother him is that he gets a little upset or annoyed when something doesn't go his way. He may obsess over it, but it won't be the kind of obsession that would actually cause a problem other than inconveniencing another character because of it. I think if they were to confirm it and show the problems he had with it, lots of people wouldn't be able to laugh about him anymore because instead of being annoying but funny he would be somewhat pitiful and the underdog who either hides his pain or is just unable to feel or process it, rather than the oblivious self absorbed eccentric who always lands on his feet.

There is also House. I like him, and I certainly do things like he does at times, but not to the extent he does. I'll say something rude or mean to someone who richly deserves it, or I'll even mock someone who normally doesn't get mocked or laughed at (like a bully or jock or princess type who usually intimidates others too much for them to bust on them) if there is a situation where I think they have missed the obvious or just didn't use their brains. I would never put down some of the people he puts down, because he does it just because he can even though they haven't done anything to anyone, and more than likely they can't help what stupid thing they did any more than they can help whatever it is about themselves that House insults. But I'd do it in a heartbeat to somebody who was being an as*hole to me or to somebody I care about or to a total stranger if I didn't think they deserved it.

All three of the non AS characters I've mentioned, Spencer Reid, Bobby Goren and House have all been in an episode where they were interacting with someone on the spectrum which caused someone else close to them on the show to somehow or other just run across information about AS, then read it off in a tellingly serious voice and speculate whether or not Spencer, Bobby or House actually has AS. That's usually all that's said about it, but it's kind of obvious to me that the writers of those three characters were more familiar with AS than those writers who chose to write autistic characters. Whether or not those three guys are aspies, I'll continue to see them as such. Only if it's stated on the show and becomes part of the series cannon will I decide that they aren't mildly AS, and I'll continue to watch new episodes or old ones that I haven't seen for one reason or other, and I'll notice the little autistic things that aren't commented on or played up. Thats the fun of it to me.

So, that's my half sleepy, half tea-wired critique of aspies on tv. Hope it gave you food for thought or just new shows you want to catch.
_________________
I'm giving it another shot. We will see.
My forum is still there and everyone is welcome to come join as well. There is a private women only subforum there if anyone is interested. Also, there is no CAPTCHA.

The link to the forum is
http://www.rightplanet.proboards.com