Some guy had heart attack infront of me.
Page 1 of 1 [ 9 posts ]
jayjayuk
Deinonychus



Joined: 15 Apr 2014
Age: 35
Gender: Male
Posts: 387

I went to the snooker hall withy Dad today. I'm still there but sitting out a game. Some guy just had a heart attack right infront of me. Shocked me because I've never seen anything like that before. I wanted to scream at his mate and tell him to call an ambulance now but I couldn't getting words out. Now I feel like i may be responsible for his delayed medical care. I noticed the signs instantly. But his friend was telling him to relax and just breath deep and it will pass. But the guy was sweating, finding it hard to breath and when he stood up he nearly collapsed. His friend told him to sit in the car, and he left him for 30 minutes. In which time he was being sick and feeling worse. His friend carried on playing snooker. I told my dad to tell him to call an ambulance. I think my dad did. But to be left that long with a heart problem I feel somewhat responsible. I should have said something right away.

I hope this guy is ok and he gets the right care. It was a horrible thing to see. I just feel like somehow it's my fault for not doing more. Sorry on phone at the moment.
Misslizard
Veteran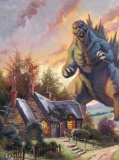 Joined: 18 Jun 2012
Age: 55
Gender: Female
Posts: 13,895
Location: Aux Arcs
Don't be too hard on yourself.Once when we were eating out,a man in a booth near us was having a heart attack,the ambulance was on its way,but people around him kept eating like nothing was happening,I couldn't.

_________________
"Security is mostly a superstition.It does not exist in nature,nor do the children of men as a whole experience it.Avoiding danger is no safer in the long run than outright exposure.Life is either a daring adventure,or nothing." Helen Keller
Stannis
Veteran



Joined: 19 Jan 2014
Age: 38
Gender: Male
Posts: 1,631

Once, when I was 18 or so, a guy collapsed at work with what looked like a heart attack. It took a long time for the medic's to get to him, and he choked on his dentures.
Last edited by Stannis on 18 Apr 2014, 5:25 pm, edited 2 times in total.
jayjayuk
Deinonychus



Joined: 15 Apr 2014
Age: 35
Gender: Male
Posts: 387

IamRob
Velociraptor



Joined: 6 Apr 2014
Age: 38
Gender: Male
Posts: 408
Location: Quebec,Canada
I agree with misslizard,dont be so hard on your self.if anyone is to blame its the persons friend who didnt see the urgency of the situation and put him in the car especialy knowing he had heart problems he should have been the first to notice and call for help .sometimes i think nt's are the real unempathic ones.
Eccles_the_Mighty
Veteran


Joined: 4 Feb 2014
Age: 60
Gender: Male
Posts: 591

Yep, don't be so hard on yourself, there's nothing you could have done.

For next time:
Find your local Red Cross or St John's Ambulance and get them to teach you what to do. This is the list BUT to do CPR right you need to be taught the technique:

1) Recognize the symptoms, chest pain that may spread to their jaw and left arm, short of breath, may complain of dizzyness.

2) Get someone else to call 911 whilst you attend to the patient, tell them to report back with an arrival time for the emergency crew.

3) Put the person in a sitting position, with knees raised and their back should be supported. Try to keep the person calm and still. Once you have done this loosen any tight clothing.

4) Ask the person if they carries any prescribed medication for heart problems. This may be a spray or tablets that are placed under the tongue.

5) If the person loses consciousness then give CPR.

DO NOT give the person aspirin.

_________________
Eccles
EzraS
Veteran


Joined: 24 Sep 2013
Gender: Male
Posts: 24,144
Location: Twin Peaks
jayjayuk wrote:
This was defiantly a heart attack. His friend said he had heart problems. These guys were in their 80s. It keeps playing in my head over and over and over. Wish I didn't witness this today.
Same exact thing would happen to me.
I would see it play out in detail and sit there paralyzed.
And then relive the thing ten thousand times.
Eccles_the_Mighty wrote:
DO NOT give the person aspirin.
Why? The medics gave my aunt an aspirin to chew when it seemed like she was having a heart attack.
Eccles_the_Mighty
Veteran


Joined: 4 Feb 2014
Age: 60
Gender: Male
Posts: 591

The medics gave your aunt an aspirin, they will have monitored her health from that point, it will have been entered on her medical records and the staff in the emergency room will know that she's had it.

Aspirin thins the blood and may start to dissolve the blood clot that caused the heart attack in the first place, that's the good news. The bad news is that when the blood clot starts moving its next target could be the brain or the lungs, and a stroke or a pulmonary embolism is not a nice way to die.

If somebody is in an emergency situation then the only thing they should take before the emergency crew get there is medicine that's been prescribed to them.

_________________
Eccles
khaoz
Veteran


Joined: 9 Apr 2013
Age: 63
Gender: Male
Posts: 2,940

Sometimes people who are thinking they have a heart attack are found by Emergency Room doctor to be experiencing anxiety attacks, indigestion I hope the fellow is okay. Maybe his mate is familiar with his attacks so reacted from personal experience with him. At any rate, don't beat yourself over it. You did what you could.