Origin story of The Bicycling Guitarist
Page 1 of 1 [ 5 posts ]
TheBicyclingGuitarist
Veteran


Joined: 27 May 2007
Gender: Male
Posts: 1,332

I am a super hero. My name is The Bicycling Guitarist. My super powers include songwriting and playing guitar on a bicycle, and what I do could be very important to the safety of the universe. Since the universe is musical in its very structure (a bunch of vibrations of various frequencies interacting with each other), my job as super hero is to play the right notes at the right place and time to use my guitar as a cosmic knitting needle to patch where the fabric of the cosmos is fraying.

My super powers may have come from being exposed to a radioactive beagle when I was a boy. No, really, I had a pet dog who was the product of a lab experiment at the University of California in Davis back in the 1960s. The site where her siblings are buried is still a class one or priority one (I forget what term) but a very toxic radioactive waste site, but I cuddled and slept with that dog for fourteen years from the time I was six years old until I was twenty. Curiously enough, my bicycle guitaring powers appeared just a few years after that dog died. Learn more about the actual dog at Daiquiri, the Radioactive Beagle. Spiderman got his super powers from being bitten by a radioactive spider, but that is just comic book fiction. I am The Bicycling Guitarist in real life and I really did have a radioactive beagle as a pet for fourteen years when I was a boy.





I attended university with Peter Griffin of Family Guy, but he does not remember me.





I also have supernatural assistance from invisible leprechauns who run alongside my bicycle and make it possible for me to do what I do. Reporter Adam Pearson of the Roseburg, Oregon News-Review quoted me saying that when I was the front page story of that newspaper on Oct. 15, 2007. I read it in the newspaper so it must be true! Here is an artist's reconstruction of that event:
[img][800:1201]http://www.thebicyclingguitarist.net/graphics/lego/leprechaun.png[/img]

The following paragraph includes several links to Facebook pages, but if you don't have Facebook you can still at least view the photograph.
In addition, during an ion storm I was transposed to an alternate universe and my evil twin came here. I found a way to come back with the help of The Evil Twin's woman, but he got mad and invented a way for him to visit my universe to try to get even with me for stealing the heart of his woman. He deliberately plays notes to cause the fabric of the cosmos to become unraveled, making more work for me. Since I have a beard, my evil twin does not. My guitar is Annie the Anniversary Model Stratocaster. His is Versie the Anniversary Model Stratocaster (Annie and Versie are both Anniversary model guitars). I ride The Minstrel Cycle. My Evil Twin rides The Twinstrel Cycle.



_________________
"When you ride over sharps, you get flats!"--The Bicycling Guitarist, May 13, 2008
kraftiekortie
Veteran


Joined: 4 Feb 2014
Gender: Male
Posts: 71,186
Location: Queens, NYC
TheBicyclingGuitarist
Veteran


Joined: 27 May 2007
Gender: Male
Posts: 1,332

Thanks kraftiekortie. I appreciate any assistance in becoming better known so I can find a sponsor to professionally film or record at least the best of my hundreds of original songs while I am still able to play. After doing this for 30 years I am currently at the top of my form, but I am always just one fall or mugging away from it ending forever. NONE of my original songs have yet been professionally recorded, and I don't have any professional quality videos yet either that show me doing what I do, just some stuff on YouTube that was filmed on a handheld Android more than a year ago.

Please like "The Bicycling Guitarist" on Facebook, give thumbs up to the videos on the "BicyclingGuitarist" YouTube channel (I hope to get more and better quality ones up soon), and tell ALL your friends and family about The Bicycling Guitarist to help me get discovered before I get too old to do this anymore. I just turned 54 years old one week ago (on DC Comics' first "Batman Day" lol). thanks

I pledge if I become better known and hopefully at least a little better off financially, to help my friends and cats, donate to the local homeless shelter, food pantries, animal shelter and library, and if interviewed I will do what I can to raise public awareness of autism and Aspergers to counter any negative stereotypes associated with us. In newspaper and radio interviews of the past year I did discuss my having Aspergers, but those interviews were only published in my hometown, not nationwide or worldwide.

_________________
"When you ride over sharps, you get flats!"--The Bicycling Guitarist, May 13, 2008
kraftiekortie
Veteran


Joined: 4 Feb 2014
Gender: Male
Posts: 71,186
Location: Queens, NYC
Misslizard
Veteran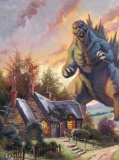 Joined: 18 Jun 2012
Age: 56
Gender: Female
Posts: 14,212
Location: Aux Arcs
Wishing you the best of luck,I don't have Facebook so I can't help there.But I will check out your Youtube vids.I tried to pick up guitar as a kid,had some lessons.I have trouble making my hands do different things,but I can always tell if I hit the wrong note.I did great on the flute,reading music seemed natural,it was SO easy.I was very good,first chair.I don't play that anymore much,my right hand has problems.My ulnar nerve was damaged in a childhood accident and as I age I have problems with the last two fingers,they get stiff.I still have my original flute,a DeFord.
And Happy Birthday.

_________________
"Security is mostly a superstition.It does not exist in nature,nor do the children of men as a whole experience it.Avoiding danger is no safer in the long run than outright exposure.Life is either a daring adventure,or nothing." Helen Keller