Hyperborean
Veteran


Joined: 4 Jan 2015
Gender: Male
Posts: 956
Location: Europe
DataLore, this is a really great thread!

It's not asinine at all, I'm really happy you did this. I hope you won't mind if I give you a little tip about cooking bacon in the oven - you can actually cook the egg(s) in with it. When the bacon has got about 4 minutes left to cook, just crack an egg into the pan with it, it will cook in the same oil/fat that the bacon is in. Delicious - and it saves on washing dishes, too!

_________________
'All that we see is but a shadow and reflection of what is hidden from our eyes'
Vladimir Solovyëv

'Wo viel Licht ist, ist auch viel Schatten'.
Goethe

'Demain était déjà très loin'.
Julien Gracq
Un balcon en forêt

'Aș vrea să pot să locuiesc în propriile mele cuvinte ...'
Nichita Stănescu
O confesiune

'Once one has learnt to pay attention to the characteristic manifestations of autism, one realises that they are not at all rare'.
Hans Asperger
DataLore
Blue Jay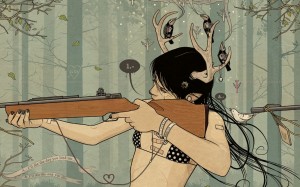 Joined: 30 Mar 2015
Posts: 99
Location: England

OOOOOOOOOO

You are a genius... a legit genius. There are no words to describe the level of epicosity contained within your post. I would never have thought to do that and seeing as keeping an eye on more than one thing cooking at once is my biggest weakness, you've just saved me a world of disappointment and pain too! THANK YOUUUUU! *3*
Dox47
Veteran


Joined: 28 Jan 2008
Gender: Male
Posts: 9,671
Location: Seattle
Yeah, at work we use the oven, 350 for about 20 minutes seems to do the trick, and we put it on a rack so that the rendered fat drips down onto the sheet trays, which we then top up our deep fryers with.

Just for fun, if anyone wants to really make bacon, it's quite simple, just mix up 3 parts salt with 2 parts brown sugar by weight, dredge a piece of pork belly in the mix until it's evenly coated, and cure it in a ziplock bag in the fridge for 7 days, turning it every other day. Smoke it at 230 (I like apple or hickory, but any fruit wood works) or so until it hits 150 in the center, cool it, slice it, and you're done. I do hundreds of pounds a week at work, sometimes we add black pepper or maple syrup, and at home I use a very small amount of sodium nitrite to set the color and give it a 'hammy' flavor, but that's not strictly necessary.

_________________
Murum Aries Attigit