Dan_Undiagnosed
Veteran


Joined: 18 Jun 2011
Age: 35
Gender: Male
Posts: 639

B19 wrote:
As I read your opening post, a particular book kept flashing through my mind, and if you are a reader, it may help you understand how workplace sociopathic saboteurs work, and how we tend to only wake up to the systematic damage they do to their targets when we hit back, and then they play the victim card.

It opened my eyes when I first read it. If you are interested:
The Sociopath Next Door
by Martha Stout

I think you might also consider contacting an organisation (if there is one near you) that deals with bullying in the workplace and unfair dismissal grounds procedures.

The positive thing is that you have six months to prepare for the hearing, which may go in your favour if the mitigating circumstances are presented clearly.
Thanks for the reading suggestion. I am a reader and I will check it out. I'm just not sure if I'll do it now or maybe wait a while until this is all behind me.
Also, yeah we do have pretty good workplace regulatory bodies here in Aus, I assume similar to NZ. But the thing is I know I deserved to be terminated. The fact that other people should have been too is a separate issue I guess. As is the fact that they threw in an extra accusation that someone else did, not me. But I'll consider talking to someone about it. Especially if I feel this affects my future employment.
Misslizard
Veteran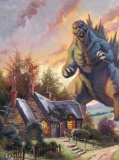 Joined: 18 Jun 2012
Age: 55
Gender: Female
Posts: 13,927
Location: Aux Arcs
Dan_Undiagnosed wrote:
Misslizard wrote:
How do you hit someone softly?
By not hitting them as hard as you potentially could. In Australia they're known as "love taps". The first punch was out of anger. The next 2 (maybe 3) were just to try and goad him into fighting back. I really wish people knew how much of a tough guy this idiot thought he was. Hopefully being floored by someone like me (he's always known I'm kind of a quiet, gentle giant at 6ft and 90kgs). He always took advantage of that too.
Got it,happens here.Usually when two drinking buddies get into it.
Good luck.Some people just bring out the worst in others.

_________________
"Security is mostly a superstition.It does not exist in nature,nor do the children of men as a whole experience it.Avoiding danger is no safer in the long run than outright exposure.Life is either a daring adventure,or nothing." Helen Keller