Trump plane made emergency landing
Page 1 of 1 [ 3 posts ]
ASPartOfMe
Veteran


Joined: 25 Aug 2013
Age: 64
Gender: Male
Posts: 28,228
Location: Long Island, New York
Quote:
Former President Donald Trump's plane made an emergency landing on Saturday evening following his speech at a Republican National Committee-hosted donor retreat in New Orleans, according to two people familiar with the matter.

The plane was in the air for between 20 and 30 minutes before one of the engines failed and the pilot of the private plane decided to turn around and return to the New Orleans airport, one of the sources said. The plane was en route to Palm Beach, Fla., where Trump resides at his Mar-a-Lago estate.

Audio of the communications between the pilot and the air traffic control tower revealed that the landing was described as "emergency in nature," according to the source, who had been briefed on the recording. However, another person familiar with the recording disputed that the word "emergency" was used.

Trump delivered a rambling 90-minute speech before donors Saturday at the Four Seasons Hotel in New Orleans, where he spoke on a range of topics. According to a recording of the speech, he jokingly suggested the U.S. "bomb the s**t out of Russia" with planes bearing the Chinese flag; called one of his nemeses in Congress, Democratic Rep. Adam Schiff of California, a "watermelon head;" and called another critic, attorney George Conway, a "son of a b***h."

Trump also said he was "looking … very, very strongly" at the possibility of waging a 2024 comeback bid for the presidency.


_________________
Professionally Identified and joined WP August 26, 2013
DSM 5: Autism Spectrum Disorder, DSM IV: Aspergers Moderate Severity

"My autism is not a superpower. It also isn't some kind of god-forsaken, endless fountain of suffering inflicted on my family. It's just part of who I am as a person". - Sara Luterman
Misslizard
Veteran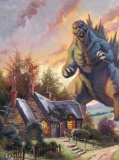 Joined: 18 Jun 2012
Age: 57
Gender: Female
Posts: 17,235
Location: Aux Arcs
Kraichgauer
Veteran



Joined: 12 Apr 2010
Gender: Male
Posts: 45,567
Location: Spokane area, Washington state.