Page 1 of 1 [ 7 posts ]
HeroOfHyrule
Veteran


Joined: 4 May 2020
Age: 22
Gender: Male
Posts: 9,247

I have semi-wavy hair, but I don't usually do much to it besides comb it (w/ a wide-toothed comb), which makes it seem a lot flatter and straighter than it is. Lately I've been trying different things, like scrunching my hair upside down a bunch during and after showers, rinsing w/ cold water, using just conditioner between actual washes, etc. to try to make it wavier and look thicker w/o using a bunch of products or anything.

Does anyone else w/ wavy hair have tips on how to naturally keep it wavy/make it wavier?
Lost_dragon
Veteran


Joined: 6 May 2017
Gender: Female
Posts: 2,610
Location: England
I have wavy hair. When it's medium / short - ish (shoulder length or slightly above) I tend to find that it curls outwards / bounces up and becomes one big wave. A less defined shape. Whereas, when I grow it out a bit it falls into smaller waves that give it an overall curlier appearance. Of course, this might not be the case for you - it'll depend on your hair type. I have thick wavy fluffy hair which looks straighter at the top and curlier on the bottom layers. At the moment it's fairly long so it doesn't look particularly straight even on the top layer.

Often when I let it dry naturally, without using a hair dryer, it'll significantly curl. However, avoiding knots and frizz can be the difficult part. I have a detangling brush and I find this to be the most effective type for my hair. Lots of small bristles. Personally I tend to dislike wide tooth combs, I actually accidentally broke one in half once whilst trying to brush my hair on a particularly bad hair day.

Thankfully my hair isn't like that anymore - but I do have to keep on top of it.

Try to avoid over washing it - if you're washing it everyday, I'd try washing it every other day instead. One way to make it look a little thicker (or at least, this works for me) is to brush the hair, flip it over (like you're in The Ring ) - brush it - flip it back - then brush it back down. Of course, being aware of your surroundings whilst doing this is vital. I tend to do this when my bottom layer is knotted and needs detangling (this happens when I've been busy and neglected my hair - I haven't had to do this for a while) but it does have the side effect of making it look a bit thicker.

Disclaimer: Not a hair expert. YMMV.

_________________
24. Possibly B.A.P.
CockneyRebel
Veteran


Joined: 17 Jul 2004
Age: 49
Gender: Male
Posts: 110,263
Location: In a quiet and peaceful garden where Mick Avory-like Sweet Peas grow.
DanielW
Veteran


Joined: 17 Jan 2019
Age: 35
Gender: Male
Posts: 1,549
Location: PNW USA
If you have short to medium length hair and want to add a bit of wave you can try a salt-water rinse or buy a "beach hair" spray for the purpose. If your hair is longer, you can blow dry it in sections over a round hairbrush. Both of those are fairly easy without needing a lot of different products.
Misslizard
Veteran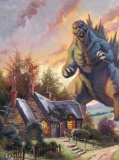 Joined: 18 Jun 2012
Age: 59
Gender: Female
Posts: 20,298
Location: Aux Arcs
magz
Forum Moderator


Joined: 1 Jun 2017
Age: 38
Gender: Female
Posts: 16,178
Location: Poland
Do you use a hair dryer? It straigntens hair. Letting the hair dry naturally enhances waves.
If you have to use a drier, install a diffuser.

Don't use dimethicone- and other silicone-based conditioners (practically all mass produced ones) - they build up on hair, making it harder for it to curl. Instead, use "hipster" natural oil-based conditioners or even oils alone (flaxseed oil is readily available for cuisine and great for hair and greasy skin).

That's I think as much as I know - myself, I have straight hair but my husband and one of my daughers have wavy hair and I could collect that much experience on it.

_________________
Let's not confuse being normal with being mentally healthy.

<not moderating PPR stuff concerning East Europe>
Blue_Star
Deinonychus



Joined: 3 Sep 2009
Age: 42
Gender: Female
Posts: 381

Have you tried a diffuser on your hair dryer? That's the only thing that works at all when my hair is long. (It's more work & time than I'm willing to spend on hair, tho.)

In order to have my true natural curls, I had to cut my hair short. It's too fine & thin, & the weight of the length pulls the top straight. As the top grows out, it stays straight ish or turns only kinda wavy.

I actually wish I'd cut the darned length off when I was younger. I was afraid I'd look hideous with short hair, but I feel prettier with my natural curls. Screw the "feminine long hair" s**t. I can leave it wet out of the shower, comb it with a wide tooth comb & my fingers, then just scrunch it to get curls. I can rewet it later & rescrunch to have it look fresh. But I can't let it get too greasy, use mousse or gel, etc, because each of those weighs it down too much.