McCain Campaign: Palin's 17-Year-Old Daughter Is Pregnant
jrknothead
Veteran


Joined: 3 Aug 2007
Gender: Male
Posts: 1,423

Coadunate wrote:
Coadunate wrote:
Personally, if I ever lose my intelligence to the level of a Down syndrome I would hope and pray that someone would put me out of my misery, let alone be born that way.
Suppose she had done what you insist was the only responsible thing to do. Suppose she had immediately checked into the nearest hospital with the state-of-the-art facilities you insist she required, and flown in her family and the people she wanted close to her, and a team of the finest doctors to give her the best care available in the world. Supposed she stayed in that cocoon of technology for a month until she had her baby, ignoring her duties as a mother and elected official. Would you have been satisfied with that, or would you have railed at all of the unneeded expense, arguing that she could have gotten excellent care if she had just flown home to her family and her substandard but adequate hospital?
You've already all but admitted that if you had a Downs baby, you would most likely put it out of its misery, because its life isn't worth anything. You'd probably see all that she did as an unnecessary expense, especially to preserve the life of one you admit has a life that is essentially worthless. You'd probably fault her for ignoring her parental duties, and her governmental duties, while she did all she could to preserve that worthless life. I doubt you would be on this message board extolling her virtues as having done the exact right thing as you insist it should have been done.
Truth is, nothing she could have done would be satisfying to you. To you, she's nothing but a republican, having less of a right to her life than a downs baby. She is an ideal candidate, mother of five, hard working, popular, with absolutely nothing in her record that would bring her down. Rarely do you see a candidate as squeaky clean, likable, and competent as this one. If she was a democrat you'd be all for her, her views on guns and abortion notwithstanding. You won't vote for her for one reason - she's a republican and republicans are evil.
And that's sad.
Coadunate
Veteran


Joined: 13 Aug 2008
Age: 64
Gender: Male
Posts: 640
Location: S. California
You are absolutely right jrknothead, I apologize, I was wrong, the Palin family is not wealthy. They do not make five million dollars a year and they don't own eight houses. They don't even own half of that, not even four houses. They own only three.

jrknothead wrote:


Quote:
It seems that you are not only holding her responsible for her own actions, but for the actions and statements of everyone who shares a party affiliation with her.

Do all of your decisions and actions reflect the values espoused by your candidates' political party? Do you think you should be held accountable when they don't?
What in the world are you referring to? I never said anything like that. I never objected to her values, only to her hypocrisy. I don't care what anyone's values are as long as they don't contradict themselves.
Quote:
Truth is, nothing she could have done would be satisfying to you.
What would satisfy me would be for her to be consistent and loyal to her values, what ever they may be; but in fact sometimes she acts like a liberal and sometimes she acts like a conservative. You can't have it both ways; or at least don't get up and call yourself a conservative Republican with "family values". One common thing about most Aspies is that we can see when people are being deceptive because we only look at their actions and not their lying eyes. When people are contradicting themselves it's like a slap in the face for me.
CityAsylum
Veteran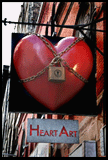 Joined: 7 Jan 2008
Gender: Female
Posts: 3,190
Location: New York City
Mage wrote:
Because part of Palin's policy is very pro-life, even in cases of rape or incest, and she is a firm believer in abstinence-only sex ed, the way she handles her own family is very important when she intends to instill the same policies on the rest of the US.
Not only are Palin and the conservative Republicans firm believers in abstinence-only sex ed, they are also against basic safe-sex-in-case-you-slip instruction, including condom use, so that when their solid family values inevitably fail, as they did with daughter Bristol, their children are extremely vulnerable to AIDS and STDs, not to mention pregnancy.
sinsboldly
Veteran


Joined: 21 Nov 2006
Gender: Female
Posts: 13,488
Location: Bandon-by-the-Sea, Oregon
I had so many chuckles in side watching an old patrician woman, her skin almost translucent with many year of excellent skin care, saying "you just can't control what teenagers will do" about the 17 year old being pregnant. It was just so funny, watching.

Merle

_________________
Alis volat propriis
State Motto of Oregon
jrknothead
Veteran


Joined: 3 Aug 2007
Gender: Male
Posts: 1,423

sinsboldly wrote: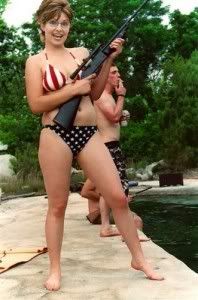 Snopes.com say's this photo is a fake
Link:
Call to Arms
here's the original:
And BTW it is identified as a BB gun that the woman is holding...
WillThePerson
Snowy Owl


Joined: 7 Apr 2008
Age: 24
Gender: Male
Posts: 154