I would like your opinion :)
Page 1 of 1 [ 4 posts ]
HaliaTotheres
Velociraptor


Joined: 31 Aug 2008
Age: 36
Gender: Female
Posts: 411

I'm considering saving for a tablet pc or a netbook, my main problem being that I want one with a DVD drive so I can double it as a portable DVD player. I don't need a full size laptop because I wont be doing much on it besides surfing, chatting and (minimal, i mean minimal if any) gaming on a portable pc. I have a tower with everything I need right here to game so it's not the biggest issue. Does anyone have any opinions on whether or not they like Tablets Vs. Netbooks? and why? and does anyone know if DVD drives in a netbook/tablet are rare and expensive to find. I don't want an external DVD/CD drive because that's just more bulk. I would possibly use the tablet/netbook for a little bit of photo editing.

So!
Do any of you have a netbook or tablet?
Do you like them?
Would you want one if you were in my position?
Is a DVD drive too much to ask for? =\


Edit: One more question, I don't use wireless but I'd obviously use it for the afformentioned portable pc. Do I have to pay for service? is it safe?
computerlove
Veteran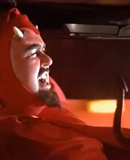 Joined: 10 Jul 2006
Age: 119
Gender: Male
Posts: 5,791

Hi Halia, the EEEpc doesn't have DVD tray, so why not just leave the DVD's in their boxes and load them to your hard drive?

Wireless at cafès is free most of the time, at airports and hotels you'll have to pay.

BTW, since I don't know if there are netbooks with a touch screen, get a Wacom Bamboo tablet, they are cheap, like $60 dollars.

Bogan and Lau have netbooks, they'll be more informative (:

_________________
One of God's own prototypes. Some kind of high powered mutant never even considered for mass production. Too weird to live, and too rare to die.
lau
Veteran


Joined: 17 Jun 2006
Age: 71
Gender: Male
Posts: 9,608
Location: Somerset UK
computerlove wrote:
... so why not just leave the DVD's in their boxes and load them to your hard drive? ...
Sorry, but this left me with a mental image of a hard drive, with a stack of still-boxed, never-unwrapped DVDs piled up on top of it...
....???
Anyway, yes - rip whatever you want, via a memory stick say, and put them in the netbook. How many days-worth of tracks do you need?
I strongly doubt that there will ever be a netbook with a built in DVD drive.
As to wireless being safe - I'd guess it's as safe as the internet?
This netbook (Acer Aspire One) cost £175 ($256) in Tesco, who are sold out, but PCWorld have them at that price.
_________________
"Striking up conversations with strangers is an autistic person's version of extreme sports."
Kamran Nazeer
HaliaTotheres
Velociraptor


Joined: 31 Aug 2008
Age: 36
Gender: Female
Posts: 411