Was the co-creator of Spider-Man on the spectrum?
Page 1 of 1 [ 3 posts ]
dorkseid
Veteran


Joined: 28 Jun 2020
Gender: Male
Posts: 898
Location: Tarkon Galtos
No, not Stan Lee. I'm talking about Spider-Man's other, lesser known parent: Steve Ditko. While Stan Lee was credited as the writer, it was Steve Ditko who drew the comics. He also contributed to the plotting.

In addition to Spider-Man, Ditko is also credited with creating or co-creating Doctor Strange, The Creeper, The Question, Captain Atom, the modern Blue Beetle, Hawk and Dove, Mister A, and others. He has also contributed to characters like Iron Man and the Hulk.

In Search of Steve Ditko (BBC)

Ditko is known for being a recluse. Unlike Stan, he always avoided the limelight and preferred privacy and solitude. He never granted interviews or had any interactions with the public. He did not get along the best with Stan, which he attributed to how Stan treated him and how he was never given sufficient credit for his work at Marvel. He quit from Marvel after roughly 30 issues of Spider-Man.

In those early comics, I feel that Peter Parker/Spider-Man himself exhibited signs of being on the spectrum. He was highly gifted intellectually and did very well at his school work, but did not have any friends and was constantly ridiculed and bullied by his classmates. A girl showed constant interest in getting to know him that he was oblivious to. Once Peter graduated from high school and started attending college, his new classmates attempted to socialize with him but felt snubbed when he was constantly distracted. As Spider-Man, he made a number of mistakes like attacking hoods before they committed any crime or mistaking a movie shoot for an actual robbery. And once Ditko departed as the artist on the comic, Peter Parker became much more competent socially.

Ditko was also known for his fixation on Ayn Rand's Objectivism's philosophy. Ditko has a very black-and-white view of the world, in which a person and their action were good or evil and received their just deserts accordingly. This philosophy was exemplified in his character Mister A, who dished out harsh punishment for those he deemed guilty.

It is hard to be certain regarding a man from his reputation alone. But what do you all think?
Kraichgauer
Veteran



Joined: 12 Apr 2010
Gender: Male
Posts: 43,498
Location: Spokane area, Washington state.
AliceCooper
Tufted Titmouse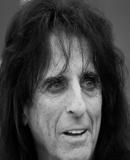 Joined: 30 Sep 2021
Gender: Male
Posts: 32
Location: America!
Yes, I do think he had it. Weeks ago, I brought him up in another thread because Steve had all the signs from his love of Ayn Rand books that many myself included related to her, books to his reclusiveness to his intelligence.

_________________
People talk about Alice being a rebel there was never more of a rebel than Jesus Christ, "You wanna talk about a rebel he was the ultimate. Alice Cooper