Anyone else excited for the return of Crank Yankers?
Page 1 of 1 [ 2 posts ]
SportsGamer35728
Blue Jay

Joined: 6 Oct 2015
Posts: 95
Location: Vice City
Yesterday, it was announced that Jimmy Kimmel and Adam Carolla would be bringing back an updated version of the 2000s Comedy Central show Crank Yankers, a program I had a slight obsession with growing up. Is anyone else looking forward to seeing it again? Ironically, I hope one of my formerly favorite characters from the original run, Special Ed, does not return this time around. While I found him amusing back then when I was younger and didn't know any better, now as the godfather and cousin of a toddler with Down Syndrome, I find the character rather offensive.
nick007
Veteran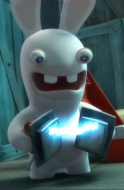 Joined: 4 May 2010
Age: 36
Gender: Male
Posts: 20,953
Location: was Louisiana but now Vermont
I liked the 1st 3 seasons. I also bought the CDs they made. I didn't know they made a 4th season till one night last year when I saw it listed on Comedy Central & I put it on. That was the only ep of season 4 I seem some of. It didn't look familiar to me & the guide listed it as season 4 so I looked it up online the next day. Apparently they made it years later after canceling it. I wasn't really watching TV much at the time which explains why I never knew about it. I really wish CC would show the reruns of all 4 seasons.

_________________

But I don't want to go among mad people, Alice remarked.
Oh, you can't help that, said the Cat: we're all mad here. I'm mad. You're mad.
How do you know I'm mad? said Alice.
You must be, said the Cat, or you wouldn't have come here.