Invitation to a Birthday Party
Page 1 of 1 [ 7 posts ]
jimmy m
Veteran


Joined: 30 Jun 2018
Age: 71
Gender: Male
Posts: 4,740
Location: Indiana
Lindsay Larsen explained on Facebook in May that she passed out invitations to Christian's class of 25 students, but only one girl responded that she would come. {Christian is a 9 year old boy with autism.]

"The hardest thing, is I do understand. It can be uncomfortable to try to be a friend with someone who has had outbursts and cried in class," she wrote in the post, adding that she was "grateful" for the one girl who said she was going to attend.

In another Facebook post days later, Lindsay said that her friend reached out to Nampa High School Football Coach Dan Holtry after reading the first post about Christian's birthday party. Nampa is located about 20 miles from Boise [Idaho].

"Before I knew it, Coach Dan was reaching out to me, asking if he could come to the party with some of his best players," Lindsay wrote, adding that she "happily accepted" the coach's offer.

Christian told KTVB, "This is probably the best birthday ever, I have lots of best days in my life, and this might be one of them."

"There is so much good in this world," Christian's mom wrote on Facebook. "And when things are hard, the good shines even brighter."

Source: Idaho high school football team attends autistic boy's birthday party after only one classmate accepts invitation
Misslizard
Veteran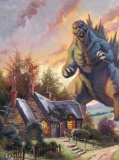 Joined: 18 Jun 2012
Age: 55
Gender: Female
Posts: 13,932
Location: Aux Arcs
That was really nice of them to attend.
I remember having a sleep over and only one girl showed up.We remained friends till she took her life several years back.She had MS and was confined to a wheelchair.I miss her.

_________________
"Security is mostly a superstition.It does not exist in nature,nor do the children of men as a whole experience it.Avoiding danger is no safer in the long run than outright exposure.Life is either a daring adventure,or nothing." Helen Keller
eikonabridge
Veteran


Joined: 25 Sep 2014
Age: 57
Gender: Male
Posts: 929

cyberdad wrote:
... Unfortunately for Christian he has to go to a school where his classmates and their parents think it's ok to avoid the special needs kid. Can relate...
I mean, what do parents expect? It is what it is. You could try the kind of ninja revolution that I do, but even in the best case like mine, it's always one teacher at a time, one parent at a time, one child at a time.
Look at this picture. A boy selling "beer," with a fine print "root." That is, he was selling "root beer." Cops loved it.
The thing is, replace the boy in the picture with a boy from a Mexican immigrant family, and all of a sudden the picture wouldn't look, uh, as cozy. In fact, it would be hard to imagine the same smile on the faces of those cops. But, then again, the same Mexican boy trying to pull a similar prank in a Hispanic country, he would be cheered as creative, too. And why not, just imagine the same thing done by a muslim girl wearing hijab. Oh boy oh boy oh boy...
See, the world is just the way it is. There is no need to agonize about other people. As someone here has said, those other people are people, too.
We do what we have control over. Other people do whatever they have control over. There are always nasty people out there, but hey, you don't need to hang around with them.
Birthday celebration is a cultural thing. I personally have forgotten my own birthday so many times. I mean, the earth still goes around the sun, not one second faster, or slower. So, what's the big deal about birthdays? They are just like any other day. I always have sympathy hearing about birthday stories of autistic children: either they don't get invited to other kids' birthdays, or other kids don't come to their birthdays, things like that. But, I scratch my head: why do people even celebrate birthdays publicly, in the first place? I understand it's a cultural thing. But hey, just remember, there are people that don't even celebrate birthdays, and they are just as happy. I just don't understand why people create problems for themselves. We certainly don't do any of the birthday gift stuff in our family. For the children, it's a private event, at most with some cousins. We often do birthday celebration of a few kids together, if their birthdays are close enough, to save trouble. Usually it's just a cake or pie. The highlight consists in the kids blowing off candles, and we would re-light the candles a few times. We just don't have that tradition of inviting outsiders, or go to outsiders' birthdays.
The other thing I do with my kids, ever after their respective 8th birthdays, is to re-read the letters that I wrote for them on their 8th birthdays. (E.g.
http://www.eikonabridge.com/Ivan_8th_birthday.pdf
). I mean, to me, that is a much more meaningful way of spending a birthday.
Last edited by eikonabridge on 28 Jul 2019, 3:01 am, edited 1 time in total.
eikonabridge
Veteran


Joined: 25 Sep 2014
Age: 57
Gender: Male
Posts: 929

cyberdad wrote:
... But kids want to have birthday parties like their classmates...
I do remember taking my daughter to some of her friends' birthday parties. I can't remember which place it was on one occasion, but I did consider throwing a party like that. But, when I found out how much money it was to rent one of those places, I canceled the idea pretty quickly. Ha ha. Coming from an eastern-religion background, austerity was pretty easy to justify. Also, my kids understand pretty well that they don't need to fit in. They know they are special.
One more thing: I frankly discourage my children from hanging around with most of the neurotypical children. I see those relationships as a waste of time. I instead have taken say, my daughter, to parks, and let her sit alone, and just think about anything she likes to think. I would say the best time in my life was in my high school, when I could sit on the second-floor balcony, and dangle my feet in the air. Don't get me wrong, I liked to go out with my friends for fun activities, too. But some of the chit-chat/smalltalk stuff in girls is just not healthy. I mean, most of them don't end up well, anyway, so why bother hanging around people that are going nowhere? My children get plenty of interaction with tons of adults or high-school buddies (big brothers/sisters), and with their cousins. School peers are not all that important, in my opinion. I mean, those children are un-filtered. Sorry for being elitist. It's fine for the kids to see regular folks when they are young. But friends that truly matter, you meet them in college or in advanced degree programs.