Page 1 of 1 [ 7 posts ]
Callista
Veteran


Joined: 3 Feb 2006
Age: 36
Gender: Female
Posts: 11,395
Location: Ohio, USA
I have occasional tics. Usually it involves jerking my head, randomly; or occasionally making a sort of barking/yelling sound, briefly. They're very seldom; some days they don't happen at all. Most of the time they happen when I am sitting quietly, and it feels a little like I just do them, without thinking, like it's impulsive. They feel like voluntary movements; only I didn't decide to do them. Does that make sense?

Anyway, these are nowhere near Tourette's, which requires multiple tics, multiple types of tics, and much more often than what I have. And they are not even something that a psychologist would address, because they cause absolutely no impairment for me. Maybe they make me look a little odd, occasionally, but most people most likely think I am just shaking my head or coughing.

An interesting fact about them is that I have them slightly more often now than I did when I was a child. This is the opposite of the way Tourette's tics happen, because those are much more common when you are young, and you may even "grow out" of them. This increase coincided with an increase in sitting still--I'm on medication for ADHD-like symptoms at the moment, and sit in class and at the computer much more than I used to.

I'm interested in how common this is. Do other people experience it, too? Do NTs? Do most people's neurological systems just kind of glitch like this on occasion? Or is it less common, and my experiences come from just generally having odd neurology?
rabbitears
Veteran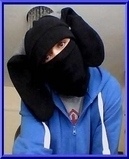 Joined: 18 Jan 2011
Age: 28
Gender: Female
Posts: 6,398
Location: In a box of chocolate milk mix.
I have waves of tics - they sort of come and go, and can slightly change each time, with some recurring ones that remain the same.

I'm not diagnosed with Tourette's and don't believe I have Tourette's, but I do tic as well as stim. This causes no hindrance to me and I think it's reasonably common for anyone to tic. It can obviously be a nervous tic and due to stress, or maybe something like sodium depletion, which can cause tic like movements, but I suppose this usually causes muscular pain and they aren't true tics.

Besides, tics are also common for people with ASD's. I'm sure there are plenty of others here that are not Tourette's but do tic.
_________________

THINGS I LIKE

Parasaurolophus, Plesiosaurs, Dinosaurs, Pterosaurs, Music, Tuna, Chocolate milk, Oreos, Blue things
Parasaurolophuscolobus. Parasaurcolobus. Colobusaurolophus.
....And Nunchucks are my friends.
SyphonFilter
Veteran



Joined: 7 Feb 2011
Gender: Male
Posts: 2,107
Location: The intersection of Inkopolis' Plaza & Square where the Turf Wars lie.
Those kinds of random tics happen to me too. Jerking my head, suddenly kicking my leg out, shivering-like movement even if I'm not cold, pushing my elbow back, those things. They happen randomly no matter whether I'm sitting down or standing up. Almost everyday. Like you, it's worse than when I was a kid. I don't know why it happens. Not that it bothers me or anything.
Jellybean
Veteran


Joined: 20 Apr 2007
Age: 31
Gender: Female
Posts: 2,866
Location: Bedford UK
Tics are very common with ASDs and ADHD. I've got moderate-severe Tourettes so I have all the major symptoms and they do impact my life. Tics are still annoying though whether they are bad or mild.

And I am not so sure about the children have it worse thing because I have met A LOT of adults who's Tourettes peaked in their early to mid 20s, the same happened in my case. This has not yet been explained by the experts though who still go with the children grow out of it idea.
_________________
I have HFA, ADHD, OCD & Tourette syndrome. I love animals, especially my bunnies and hamster. I skate in a roller derby team (but I'll try not to bite

)
izzeme
Veteran



Joined: 4 Apr 2011
Age: 32
Gender: Male
Posts: 2,686

bnky
Velociraptor


Joined: 19 Nov 2011
Age: 53
Gender: Male
Posts: 486
Location: England
I get something that like that. It feels like the back of my neck just flicks my head around to the side and then flips my head a few degrees on that axis very quickly and repeatedly. It often follows or is accompanied by lip-flicking/rolling. Can't remember when it started, but it wasn't in childhood.
It never seems to happen when I'm doing very physical stuff or concentrating on certain things. Haven't considered whether they might be stress-related or not.
XFilesGeek
Forum Moderator


Joined: 24 Jul 2010
Age: 36
Gender: Female
Posts: 5,372
Location: The Oort Cloud
Yes, I have a few tics.

Mostly rapid eye-blinking and facial twitches that come and go depending on the day and tend to get worse after coffee. I also have one where I yank my shirt sleeve.

I'm currently trying to determine if my head-scratching is a tic or a stim. I sometimes have trouble telling because I do experience an over-whelming compulsion to move, even when I'm only stimming.

_________________
"If we fail to anticipate the unforeseen or expect the unexpected in a universe of infinite possibilities, we may find ourselves at the mercy of anyone or anything that cannot be programmed, categorized or easily referenced."

-XFG (moderator)
Page 1 of 1 [ 7 posts ]
Similar Topics
Tourette's (or tics) or Aspergers

in Bipolar, Tourettes, Schizophrenia, and other Psychological Conditions

08 Jul 2014, 7:56 pm

BeggingTurtle

Tourette's/AS/HFA?

18 Sep 2010, 10:26 pm

LususNaturae

tourette's? or what?

in Bipolar, Tourettes, Schizophrenia, and other Psychological Conditions

07 Jul 2011, 2:30 pm

pollyfinite

Tourette's

22 May 2008, 9:07 am

beef_bourito