Ladyhawke, dreaming of legos and videogames
Page 1 of 1 [ 3 posts ]
computerlove
Veteran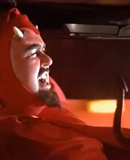 Joined: 10 Jul 2006
Age: 120
Gender: Male
Posts: 5,791

MONKEY
Veteran


Joined: 3 Jan 2009
Age: 27
Gender: Female
Posts: 9,896
Location: Stoke, England (sometimes :P)
Wow AS has had alot of media coverage recently, Thre's the films "adam" that's out now, "mary and max" and I'm not sure when it's out and I heard that next year there's going to be a film about temple grandin. I've read lots of articles recently aobut aspies both famous and not.
In a way I don't like all this attention we're getting, because it's made me feel I need to make it more of a secret and I'm more embarrased about it now. Because there could be some TV show about aspies that is playing in one of my friend's houses and they've got someone with AS sitting right next to them without them knowing. It would be an uncomfortable situation and the attention it's getting might make us easier to spot so I will be even more secretive then. It's like the next ADHD, they never shut up about it and eventually people will get bored and think we're just doing it for attention like they thought ADHD was which in the majority of cases isn't. Hopefully this media phase will blow over soon enough so I could be left alone for change. And I'm still not telling people, I made the mistake of being open about it at the start of high school and me and my best friend were like the famous aspies of our year group. I'm starting college in September as "normal" (but the teachers will know).

Otherwise I like that article, I can really relate to ladyhawke!

_________________
What film do atheists watch on Christmas?
Coincidence on 34th street.
TomAdams92
Blue Jay


Joined: 6 May 2009
Age: 29
Gender: Male
Posts: 90