Page 1 of 1 [ 4 posts ]
knowledgeiskey
Blue Jay


Joined: 6 Apr 2009
Age: 33
Gender: Male
Posts: 96

oblio
Veteran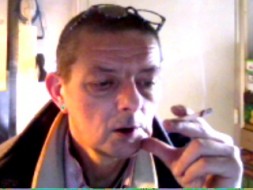 Joined: 25 Dec 2007
Age: 64
Gender: Male
Posts: 529
Location: 1 Observatree Close, Pointless Forest, Low Countries
just a couple of simple googles will provide you with more than the basics

however:

starting point always: Velvet Underground, specifically Lou Reed -
we're talking the late sixties, really, and popular culture very much
'romantically' focused on Flower Power, San Francisco, Woodstock

no hippies in New York then, not in the VU circles, no sir!

England had some roots, then: as sort of 'opposed' to the 'romantic'
loveableness of The Beatles and the Amsterdam hippies -
there was the more cynical and realistic voice of straight-shooting Stones,
and The Who's Street Fighting Men, and many more, why, hell...
however 'hip', even The Kinks and The Small Faces come to mind

i would say (sorry Dead Kennedy's, sorry New York Dolls)
'real' punk has to be English, but yes, with straight shoots in the US

but never forget: with the 'recognized' VU godfather of punk,
Lou Reed, always & still rocking his basic, cynical way,
punk was really always there in the us-tradition

New Wave, in my opinion, is very much nothing but a shadow,
a watered-down version of the same story - more geared public consumption -

and finally... it's all the same rebellious core emotion of simple
Rock & Roll, charged with the blues, politicized by folk (Dylan!) -
as the master has always stated:


One fine mornin, she puts on a new york station
And she couldnt believe what she heard at all
She started dancin to that fine-fine-fine-fine music
Ooohhh, her life was saved by rock n roll -

Despite all the amputation, You could dance to a rock 'n roll station
And it was all right, It was all right

Hey baby, rock n roll/[email protected]

'some people like to go out dancing -
other people, like us, we got to work
then you'll see that some people love us
they'll tell you that life is just made out of dirt

that women never really faint
that villains always blink their eyes
that children are the only ones who blush!
that life is just to tied'

from: Lou Reed, Sweet Jane

specifically the Rock 'n Roll Animal version i regard my 'emotional' bible

_________________
a point in every direction is the same as no point at all - or is it

may your god forgive you
suburban-robot
Hummingbird


Joined: 7 May 2009
Age: 32
Gender: Female
Posts: 21

aleclair
Velociraptor


Joined: 18 Oct 2006
Age: 30
Gender: Male
Posts: 457
Location: Brooklyn NY
From what I understand, the major labels saw that punk could make more money than it was.... so they gave it a makeover and called it New Wave.

Which makes no sense since most of the British punk rockers were on big labels. Wire, for example, were on Harvest Records (along with Pink Floyd), for example.

But yeah, it all comes from the Velvet Underground, though I find the punk generation and the new-wave generation to be more interesting takes in it. Go listen to Wire, Mission of Burma, and Gang of Four; they all channel the Velvet Undergrounds' noise-haze... but set the bar higher and higher.