Page 1 of 1 [ 6 posts ]
i used to be the person who enjoyed arguments and heated discussions. i was captain of the debate team, and would argue with people any chance i got. even provoke people, or even play devil's advocate. now, i avoid arguments most of the time.

of course there are exceptions of when an argument is good (to see the pros and cons of an idea).

A. the person i am arguing with
1. are they open-minded and willing to listen to your side and consider it?
2. are they knowledgable of the subject they are talking about?
3. can they handle a debate maturely and respectfully?

there is a difference between an intellectual debate and two people yelling at each other on a street corner.

B. the subject
1. is it a subject that i've already debated to death?
2. is it a subject that is practical to my life?
3. will i gain knowledge from this debate?

i could argue with someone over politics or religion, but i find them to be so broad and large, that they are not issues that one person could solve. rather i prefer arguing issues that relate directly to my personal life, problems that i can solve.

C. avoiding harm
1. will this argument result in me losing a good business deal?
2. will this argument ruin a friendship or get either of us angry?
3. will this argument downgrade my reputation?
4. does it consume too much time?

yeah, you can use all of your best points to deflate the other person's argument, but if they still are unconvinced (but even if they were) and it results in you losing something, it's not worth it.

without going through the A, B, and C checklist, it is easy to waste time arguing without gain.

now, i have no shame in changing the subject, saying that the other person has a valid point to shut them up, or just walking away. if it means i'll save time that i could inject into other areas of my life. if it means i wont damage my relationships.

some people act as if the sole purpose of their life is to win an argument. you cant have it both ways. you cant have your cake and eat it too. you can't serve two masters. if its between holding your tongue (even if the other person is very unreasonable) and wasting time debating someone who makes no sense, i'd pick the former. theres no perfection in life. one has to give up something to get something else.

to be honest, sometimes i will engage in pointless arguments just for pleasure, but now i dont feel an obligation to as i used to, and i rarely engage in pointless arguments now.

your thoughts on the subject?
League_Girl
Veteran


Joined: 4 Feb 2010
Gender: Female
Posts: 23,736
Location: Pacific Northwest
I used to like arguments too but then I have gotten lazy to do it. If I want to argue, it will be a good one, not over something stupid or if someone is just saying pointless things. They usually do that for the sake of an argument. I will still argue sometimes but not much.

I even learned that debates and arguments are not the same thing. Debate is arguing but the whole point of it is to twist peoples words around and say pointless things in it that are irrelevant. I also think in it, you pick apart what is said and only listen to what you want to hear and argue that. Online you only read what you want to read and argue that ignoring the rest that was written.

If people are twisting my words or if I am talking to a brick wall, no point in arguing with them. Same as if it's obvious they are not going to change their opinion and it is annoying when people keep arguing with you and not shut up and refuse to move on until you agree with them. But online it's easy to avoid because you can just not respond to their posts and if there is the ignore option, you can use it but other than that, just stop replying to them. On IM, there is the block feature and the logging off feature and going invisible. But in real life, there is no way out unless you find their weak spot to shut them up or just pretend to agree with them.

If something is going to make me very angry, I don't talk about it.
very true.

it also depends.

who are you trying to convince?

are you only trying to convince your opponent?

or are you trying to convince an audience?

if the latter, what kind of audience are you trying to convince?

if the former, you best use much tact.

i also dont appreciate underhanded debating techniques such as fooling around with semantics and misrepresenating positions.

if the irrationality of the other person angers me, i just politely find some way to end it.
FearOfMusic
Veteran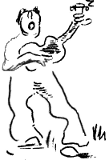 Joined: 3 Jun 2011
Age: 32
Gender: Male
Posts: 638

I used to be very argumentative... I really do enjoy a good debate. When I argue it is never really anything personal about what someone said... I just want to argue a point. Though, like you, I have kind of stopped doing this for the following reasons:

1. I realized (it was explained to me many times) that most people don't enjoy debating things all the time.
2. Most people are boring to debate... how do you argue with someone that just says "Well I just [don't] like it that way."... some people just take all of the logic out of debating.
3. I haven't kept up with current affairs in the world for about the last year so I feel less qualified to talk about some things.

_________________
((12+144+20+3*(4^(1/2)))/7)+5*11 = (9^2) + 0
jackshephard
Tufted Titmouse


Joined: 22 Feb 2011
Age: 34
Gender: Male
Posts: 31