Page 1 of 1 [ 12 posts ]
chaotik_lord
Veteran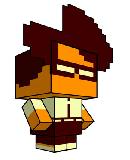 Joined: 17 Mar 2009
Age: 37
Gender: Male
Posts: 597

My roommate has been gone for three weeks, and he wanted to play a practical joke on another roommate, to tell him that he had lost his script (which he had agreed to type). I informed Brian of the intended prank, not to tattle on anyone, but to let him know that apparently, Jeff took great delight in this prank, and I was, sadly, unable to manage the lie, even with mental rehearsal. Brian had his own convoluted take on the situation ("tell him you said nothing, and see what he says") and I just shrugged. I gave up.

I'm a terrible liar.

Brian then said, "You're like HAL from 2001. You were asked to lie and it totally f*cked you up."

Sure, true, it always does. I have a job that requires some customer service, and if a lie is required, it seems the best I can do is to evade and push the issue to bosses higher than me.

For those familiar with the Wheel of Time, I feel like Aes Sedai with the oath. Even when I struggle, evasive action or alternate phrasing is all that I can perform. But I really cannot lie, even with determination.

The exception is the well-rehearsed lies. For example, as someone who is transgendered who wishes to keep their birth gender private, I must occasionally use my "stock" story, and it has, at the same time, become a part of my stock identity. It does hold its own truth.

Even my learned politeness in the form of white lies is evasive, or distracting.

I know we are not liars . . . but does anyone else suffer this difficulty with uttering a lie, even one created for them to speak? I have no moral or ethical absolute about this, although I believe truth is good, I cannot say that lies are wrong, although I find them hurtful and confusing every time. I'm an Aspie, but NTs seem to like lies . . . so whatever makes them happy shouldn't be wrong. I just can't do it.
League_Girl
Veteran


Joined: 4 Feb 2010
Gender: Female
Posts: 25,693
Location: Pacific Northwest
NTs get upset with lies too. I've seen it.


I don't always get upset with lies because sometimes people lie because they are afraid they will get judged or they are too ashamed or embarrassed. But I can make them admit it. I just have to be very open and understanding to make them confess. That is if I know they are lying. I show them the facts and tell them what I know. They can still deny it or finally admit it. I've gotten two aspies to confess when they were lying to me but one of them was defensive as if he thought I was attacking him. Either I came off wrong or he read me wrong.
memesplice
Veteran


Joined: 13 Feb 2010
Age: 56
Gender: Male
Posts: 1,072

Have question for you.

You are in company of visually attractive,charismatic capable NT, and that NT verbally tells you the truth. After a while other NT's accord you the same status and begin treating you in the same way as they do your companion.

Is this an untruth or is it just how social situations work? Are you being deceived, deceiving yourself or is it something else?

Curious phenomenon isn't it?
CobaltBlew
Deinonychus


Joined: 11 Jun 2009
Age: 31
Gender: Male
Posts: 357
Location: Sydney, Australia
Fiz
Veteran



Joined: 29 Jan 2006
Age: 38
Gender: Female
Posts: 1,821
Location: Manchester, United Kingdom
chaotik_lord, I am also a terrible liar. I don't like telling lies, particularly in the way in which you have described in your post as it makes me feel awkward and I just simply cannot do it. I feel guilty and uncomfortable doing this to say the least. I cannot even lie if people ask me questions about my personal life when I don't want them to know. My usual response is 'it's none of your business', which usually throws up the same speculation or encourages the same level of busy-bodying from people that informing them of the truth would have done. If I could lie, I would avoid these scenarios altogether, but cannot.

_________________
The only person in the world that can truly make you happy is yourself.
ToughDiamond
Veteran



Joined: 15 Sep 2008
Age: 68
Gender: Male
Posts: 7,624

I think I'd have just refused point blank to go along with that wheeze.....unless I knew the victim really enjoyed such things. I don't think jokes like that are worth the risk. Certainly I wouldn't thank anybody for winding me up like that.



I can lie but it doesn't come naturally and I have to think carefully about the consequenses before I'll do it at all. The great thing about pathological honesty is that it's easier - I don't have to keep a record of my deceptions to maintain the illusions.

But I've begun to see in recent years how brutal frankness isn't always the best way to go. Sometimes it's better to spare people's feelings by being a little economical with the truth. Also I've noticed that my compulsion towards being 100% accurate in everything I say can be incredibly boring and nerdy for the listener. I've started telling jokes during my music performances, and initially I felt quite a reluctance to do that, because part of my brain kept saying "but that's not true!" I had to reassure myself that nobody is expected to believe me when I'm in joke mode, and that it's like an extension of the singing of songs, where of course not everything I sing is true of me personally.

It's April Fool's Day tomorrow so this is quite a topical topic.

I think there's plenty of fun to be had by telling some harmless lies, though I can't think of any good ones.

I thoroughly enjoyed this film:

http://en.wikipedia.org/wiki/The_Invention_of_Lying

It was particularly fascinating to me because it was almost like an Aspie world, with people saying really indiscreet, honest things to each other all the time, and I couldn't help but think "that's the way it should be!" It also really brought home how full of sh*t most people are....it's only when you see people being truthful in everyday situations that you see just how ubiquitous lying is....like somebody said on WP once, "they lie and lie and lie" Even the bonus features on the DVD are refreshingly honest - instead of the usual rubbish with the personnel hyping the whole venture up ("it was such a great privilege to work with such a brilliant star

"), they just did the whole thing straight.

gramirez
Veteran



Joined: 9 Nov 2008
Age: 26
Gender: Male
Posts: 1,827
Location: Barrington, Illinois
astaut
Veteran


Joined: 2 Sep 2009
Age: 29
Gender: Female
Posts: 1,777
Location: Southeast US
I don't/can't lie. I've told one or two lies in my lifetime (that I can remember), and I think both were pretty obvious that I was lying. Even if someone formulates a lie for me or I sat and planned it out ahead of time it doesn't work for me. I think of every possible response the person could come up with, and realize that I can't think of all their responses so the lie would fall to pieces

I do have a problem with lying, but I couldn't do it even if I wanted to.

There's an episode of a show, The Big Bang Theory, where Sheldon is asked to lie, it's very funny. He can't take the simple line he's given, he plans this elaborate lie, hires an actor to supplement the lie, etc.
ursaminor
Veteran


Joined: 20 Nov 2009
Age: 155
Gender: Male
Posts: 936
Location: Leiden, Netherlands
Taupey
Veteran


Joined: 24 Feb 2010
Age: 58
Gender: Female
Posts: 7,168
Location: Somewhere between juvenile and senile.
I'm horrible at lying and I'm uncomfortable with the idea of lying in the first place. I admit, I do tell little white lies to avoid hurting someone or to get out of an awkward/unpleasant situation. But I have known people who lie constantly about everything and I have watched them tripped all over their lies because they couldn't remember their previous lies. What a mess.

Last edited by Taupey on 01 Apr 2010, 1:55 pm, edited 1 time in total.
anbuend
Veteran


Joined: 5 Jul 2004
Age: 40
Gender: Female
Posts: 5,039

I have lied but it took too much work to remember all the time and made me feel horrible. So now I don't lie unless absolutely necessary.

_________________
"In my world it's a place of patterns and feel. In my world it's a haven for what is real. It's my world, nobody can steal it, but people like me, we live in the shadows." -Donna Williams
millie
Veteran


Joined: 25 Oct 2008
Age: 58
Gender: Female
Posts: 3,154

I do not lie. I hate to lie. IT is exhausting and pointless.
What however, can be mistaken for "lying"or, more exactly, "dishonesty" is a kind of three-d ability to read things from a multitude of angles at times, and that means I can appear contradictory. It is not that I am contradictory - it is simply that I pursue and analyse possibilities as a part of my systematic processing of any given subject. Every issue has an "in the round" presentation that I can tap into. I work at this cognitively and quite naturally and enjoy the process.
This has - in the past - been mistaken for dishonesty and also for madness.

It has also grated against some other Autistic people I have known because they are quite different in their presentation and they had assumed that just because I was diagnosed on the spectrum also, I would think and process JUST LIKE THEM. I have an internal logic that works for me - and it is to my liking. It does not necessarily accord with the logic of someone else, just because we are both autistic.