The campaigner bringing autistics to the policy table
Page 1 of 1 [ 4 posts ]
KenG
Veteran


Joined: 31 Mar 2006
Age: 51
Gender: Male
Posts: 2,090
Location: Israel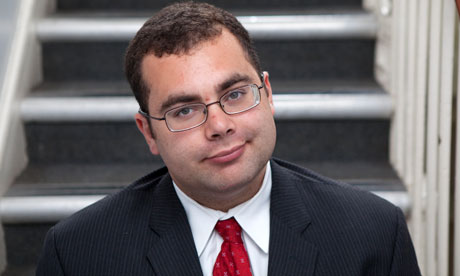 The Guardian:
"Ari Ne'eman rubs some people up the wrong way. Why? Because he is an outspoken autism campaigner who has risen to prominence in the US by demanding that policymakers and wider society stop trying to "fix" autistic people or "make us normal", and concentrate instead on including people with the condition in the decisions that affect their lives.

Ne'eman, who is in the UK to give a series of talks, claims that for too long even the most well-meaning advocates in the US and in Britain – including parents – have been obsessed with moulding autistic people to fit with society's expectations of "normal" behaviour.

Simultaneously lauded and vilified since founding the Autistic Self Advocacy Network (ASAN) as a teenager just out of high school in New Jersey, Ne'eman, now 23, is a polarising figure. He stirred up controversy by suggesting that more research investment be directed towards improving support for autistic people, rather than towards finding a cure to eliminate the condition". Read more:
http://www.guardian.co.uk/society/2011/ ... licy-table
Wallourdes
Veteran


Joined: 24 Jul 2010
Age: 33
Gender: Male
Posts: 4,589
Location: Netherlands
Nobody likes new competition for power, it takes a while before they can't get around him.

_________________
"It all start with Hoborg, a being who had to create, because... he had to. He make the world full of beauty and wonder. This world, the Neverhood, a world where he could live forever and ever more!"
androbot2084
Veteran



Joined: 23 Mar 2011
Age: 60
Gender: Male
Posts: 3,447

After reading the article about Ari, I remember that when I worked as an Assistive Technology Specialist which is a job that helps disabled people confined to wheelchairs, I had an interest in using robotic technology to help disabled people and I wanted a chance to speak at the medical symposiums just like my peers were allowed to do. I was immediately slammed with the question "Does the blind lead the blind?" implying that I was so mentally ill that I could not possibly make any contribution.

I am really offended by people slamming Ari and telling him that he has no business representing people with low functioning autism. Let me tell you how neurotypical people represent LFA. Neurotypical people assume that LFA individuals are retards and that all they can understand and use is low technology communication devices like picture pecs. NT's who call themselves professionals come up with a million excuses as to why expensive high technology communication devices are inappropriate for low functioning autistics because you have to crawl before you walk and you have to demonstrate mastery of picture pecs before you are allowed to graduate to high technology. However in reality picture pecs are non working low technology devices. Autistic children not only tend to scatter and lose the individual pictures but there is no voice output capability.
ci
Veteran


Joined: 28 Nov 2010
Age: 40
Gender: Male
Posts: 3,546
Location: Humboldt County, California
There are better ways to do the politics to include people with autism then using abortion politics as guilt as a way to earn artificial (fear) respect. While I don't disagree with the majority of what he seys I do disagree with his ethics. I believe just like shock jocks people make it the honest way or by hurting others. Ari has hurt autism advocacy just as much as he has helped it. I think it's time for him to step aside, be thanked for some of the audacity and allow other not so polarizing and hurt feeling producing leaders have their own voices in autism politics. Especially because Ari is so very high functioning it's time for others who are more disabled have a piece of the action. The abortion politics have got to go simply because women cannot be referred to in any way like monsters as he and company have done with calling them autism bigots and some of their followers the women as Nazi's. Folks just cannot associate with that sort of politic because it is demeaning.
_________________
The peer politics creating intolerance toward compassion is coming to an end. Pity accusations, indifferent advocacy against isolation awareness and for pride in an image of autism is injustice.
http://www.autismselfadvocacynetwork.com