Page 1 of 1 [ 3 posts ]
earthdweller
Snowy Owl


Joined: 30 Aug 2006
Gender: Male
Posts: 169

I just remembered that I read the thread in the general discussion forum related to an article that had to do with examining aspergers. I remember that this article made references to people who are are well-known / famous and that their contribution to this society was linked to their exceptional talents / ideals. So the "examiners" (those who agree witht the articles perspective) want to confront the other "examiners" (differing with the articles perspective) as for that the ones who intially examined different than the article says, attribute these talented individuals' traits of that to the unconventionality in social skills etc for that has to do with aspergers.

However, the way that they examined their traits (the famous individuals who were being examined with the "no asperger" point of view) was that these famous "contributers" to society both in the technological realm and in the political realm were said to be undiagnosed: to be "normalized" in their traits due to the information biased against the other point of view.

Anyway, I thought that the main thing to consider from my thoughts on this was that people are different in many ways that are also in the unconventional zone (as this is where there is aspergers autism). An example may be something like "dyslexia" or "sensory integration disorder"

So.. What I have in mind was that I think that the traits that has to do with aspergers such as sensory integration, blocking out other internal stimuli which leads to intense focus on an idea (preoccupation), and sacrificing the natural feel of social skils in place of a another ability can lead to an exceptional heightened ability. As this can be something like in logic or some other kind of awareness beyond what can come from normalcy. However, there are people who are obssessive in their personality traits which is why they profess in what they do but they are considered "normal". For whatever reason people can adapt and are considered normal in their personality trait. I suppose that they are mild in their differences. Otherwise, how else could someone become different without sacrificing something that "normally" comes naturally to "average" instinctual drives?

Lastly, this doesn't mean that success comes from differences like that. But differences can trigger things that people find to be exceptional...

note: I'm not saying that I would like the article to be different because there may be some kind of intention for things to agree with them. I would leave people alone with their lives for who they are (how they adapted).
computerlove
Veteran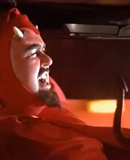 Joined: 10 Jul 2006
Age: 120
Gender: Male
Posts: 5,791

yeah, I agree about this "intense focus" thing.

for example this past weekend I spent two and a half days working on my site, learning about CSS, XML and other stuff just because I wanted to redesign it


_________________
One of God's own prototypes. Some kind of high powered mutant never even considered for mass production. Too weird to live, and too rare to die.
earthdweller
Snowy Owl


Joined: 30 Aug 2006
Gender: Male
Posts: 169

Oh yeah? As for me, I once thought about making a blog (I think more than one if I got the hang of it). My charactoristics is that I have a poor memory. Actually, I think about those things of myself as blocking many details out / blocking external things out. I am a generalizer. I also do my best when I have information to work with (rather than thinking of it myself)(+ that is linked to acheivement in those areas that require those skills).