I have multiple mental disorders what should I do.
Page 1 of 1 [ 5 posts ]
forbidden77
Butterfly


Joined: 20 Jan 2014
Age: 42
Gender: Male
Posts: 10
Location: Huntington, Indiana
I have Aspergers, Bipolar, Post Traumatic Stress Disorder, Crippling Anxiety, Sever depression, ADHD, and Paranoia.

I have all of those and ive been trying to cope and deal with it all all by myself all alone my entire life and now my parents since I got diagnosed with the Aspergers a couple of months ago are trying to understand me and want to be there for me to talk to and to get help from when im needing it and Im pretty much not sure how to go about it but it is the one thing ive always dreamed of and prayed for my entire life but its like tho I know how im feeling I cannot often put it into correct words to fully describe the nightmare of extreme emotions and thoughts that rage through me ever second of ever day because when I try to describe people always accuse me of exxagerating but im not and im kinda not really sure about how to go about opening up with another person but its like I have to because I dont want to be alone any more.

_________________
Andrew Lewis
Sarah81
Deinonychus



Joined: 28 Feb 2012
Gender: Female
Posts: 376

Hi forbidden77

I have bipolar.

Even with this one disorder, I have noticed that people have difficulty understanding what I am going through.

It is nice when they try to be supportive though. I don't want to scare people away so I do end up keeping most of it to myself, only my husband really understands the whole thing.

It is also important to be safe and not disclose too much to people you might not be able to trust.

Most people don't really get the diagnositic criteria and how that translates into real life so I often tell a story of what happened instead.
redrobin62
Veteran


Joined: 2 Apr 2012
Age: 57
Gender: Male
Posts: 13,683
Location: Seattle, WA
I have multiple mental disorders, too. Depression, anxiety, AvPD, PTSD. I currently take Risperdal. Since it doesn't seem to be helping that much I've signed up for psychotherapy. That won't start for another month but at least it's coming up. They say it should help. We'll see.
Raziel
Veteran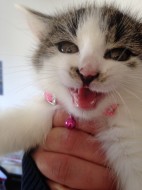 Joined: 25 Oct 2011
Age: 35
Gender: Male
Posts: 2,704
Location: Europe
I've also symptoms of several mental disorders.



I was dx with HFA in the past, but I personally suspect it's mostly "just" autistic tendencies. Besides that I've ADD and I've Tourette-Syndrome. I also have trauma symptoms from an incident that happened 3 1/2 years ago and recurrent depression, I also suspected Bipolar II in the past, but not really anymore. My personallity type is schizotypal and paraniod, but I dunno if this is in the diagnostic range or not, but the trauma clearly made me more paranoid. Well my half-brother had paranoid schizophrenia.

It's just the way it is...
The worst once are the depression and the trauma symptoms, but the trauma got a lot better the last year. Before that it was just a nightmare.


The one I wouldn't like to miss is the Tourette, it's mild though and it gives me faster reflexes. I've a book at home about Tourette and associated symptoms often seen in Tourette and there I noticed how much "Tourette" my personality actually is.


_________________
"I'm astounded by people who want to 'know' the universe when it's hard enough to find your way around Chinatown." - Woody Allen
jly88
Blue Jay

Joined: 15 Jan 2014
Age: 31
Gender: Female
Posts: 85
Location: US
I have five out of seven of those (AS, bipolar, ADD, anxiety, and depression), so don't feel like your case is all that out of the ordinary. From what I've seen on the other postboards that combination actually seems to be quite common.

If you can, I would definitely recommend seeing a psychiatrist. If your issues are chemical in nature (and the fact that you're bipolar definitely seems to point to that, though I'm no expert), then you might find medication to be of benefit to you. Just be aware that certain medications can come with certain side-effects, so sometimes you have to wait it out before you get over that initial hump (I take Wellbutrin and Lamictal and that's what happened to me with the Wellbutrin). The nice thing about some meds is that they can potentially work for more than one disorder, since certain disorders are a lot of times comorbid/caused by similar chemical imbalances (the Welbutrin has helped for both my ADD and depression). Again I'm no expert, I'm just going off of my own personal experience.