Page 1 of 1 [ 3 posts ]
AshTrees
Toucan


Joined: 11 Aug 2013
Gender: Female
Posts: 268

beneficii
Veteran


Joined: 10 May 2005
Age: 36
Gender: Female
Posts: 7,433

AshTrees wrote:
Can people without mental illness experience visual hallucinations?

I work in a supermarket. Back in October last year I briefly saw myself standing in front of the trolley I was pushing. I blinked and she disappeared.

Thanks
That sounds like a dissociative hallucination. If it bothers you, you can talk to a mental health professional about it.

_________________
"You have a responsibility to consider all sides of a problem and a responsibility to make a judgment and a responsibility to care for all involved." --Ian Danskin
Raziel
Veteran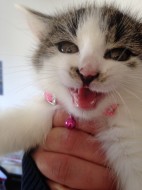 Joined: 25 Oct 2011
Age: 36
Gender: Male
Posts: 2,704
Location: Europe
Not every mental difference has to be a mental disorder. With just one hallucinatory experience you don't fullfill the diagnostic criteria for any mental disorder. Just when you also experience other symptoms...
You might be interested in that: http://en.wikipedia.org/wiki/Hearing_Voices_Movement

_________________
"I'm astounded by people who want to 'know' the universe when it's hard enough to find your way around Chinatown." - Woody Allen
Page 1 of 1 [ 3 posts ]
Similar Topics
Visual hallucinations without aural hallucinations?

in Bipolar, Tourettes, Schizophrenia, and other Psychological Conditions

01 May 2011, 8:55 pm

swbluto

Visual hallucinations anyone?

24 Jul 2016, 8:17 pm

DaughterOfAule

Does anyone else have visual hallucinations?

in Bipolar, Tourettes, Schizophrenia, and other Psychological Conditions

17 Jul 2015, 8:22 am

yaskfls

Type of Thinking: Word/Fact, Visual-Object, Visual-Spatial

04 Nov 2016, 10:40 pm

CockneyRebel