Page 1 of 1 [ 5 posts ]
NeantHumain
Veteran


Joined: 24 Jun 2004
Age: 40
Gender: Male
Posts: 4,837
Location: St. Louis, Missouri
Sometimes that mysterious sprite Luck likes to play with us, and yesterday was one of those days. I woke up late--2:00 or 3:00 in the afternoon, I think--and missed going to the doctor's--my nasal/sinus to now ear infection is not bothering me at the moment, anyway--and it was a little late to call the person who at one time seemed to be offering me a job. I wanted to go look for a job for the few weeks of summer before I went back to college; previous applications did not go anywhere.

Well, my brother came upstairs from his room in the basement, and he had some bad news: His laptop had not one but three viruses! He downloaded a trojan from vcodec.com; it's not a video codec! Anyway, this thing downloaded several different noxious trojans and viruses onto my brother's computer, and even an up-to-date copy of Symantec Norton AntiVirus 2004 didn't stop the infection. My brother says he was skeptical about running the "codec installer"; but, since NAV didn't detect any viruses when he scanned it, he decided to run it. Mistake! Apparently this thing is closely related to an FSG "trickler" spyware that monitors keystrokes and sends them back somewhere. It also loaded PSGuard (not really a spyware remover), "AntiVirus GOLD" (not really antivirus software), and several nasty viruses. One of the viruses changed his desktop wallpaper to something that resembled a blue screen of death (but smaller since his resolution is high). This virus turns the wallpaper into something with trojan-Spy.HTML.Smitfraud.c on it. Also, his Start button, taskbar, and desktop icons vanished because Explorer.EXE crashed with exception 0xc0000005 on loading. I was able to get around these things by using Ctrl+Alt+Del to bring up the Task Manager and starting Mozilla Firefox. I also started Internet Explorer to see if the Explorer in that worked, and it loaded a bunch of popups when I did that and installed PSGuard then. I didn't have this crap all removed until 1:30 A.M. last night after running several different spyware/adware removers, manually deleting registry keys, and running a speciality tool to remove Smitfraud.c. After that, his desktop came back.

On the same day, while I was out looking for jobs with my brother, who also needs a job, it stormed. I was driving through the storm, and my mom called hysteric, "You shouldn't be driving in this weather!" The rain was pretty heavy, but it wasn't nothing too unusual. Well, it was a lot worse just a few miles away at home; the rainwater was overflowing on the low-lying streets near my subdivision. I had to drive through a muddy lake of water to continue up the steep hill of my subdivision. Branches were down; trees were snapped in two. Several parts of my neighbor's fence fell down. It was bad. Also, the power was out. Luckily, the power did go back on after a couple of hours on my street at least, and our house wasn't damaged. It was pretty bad, though.
Tom
Veteran


Joined: 19 Oct 2004
Age: 37
Gender: Male
Posts: 1,542
Location: Where you least expect it
EvilWalks
Sea Gull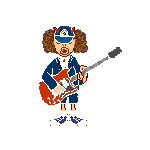 Joined: 18 Jul 2005
Gender: Male
Posts: 234
Location: USA
Sophist
Veteran


Joined: 23 Apr 2005
Age: 39
Gender: Female
Posts: 6,332
Location: Louisville, KY
Dang. Crappy day.

MovieMogul
Toucan

Joined: 7 Jul 2005
Gender: Male
Posts: 260
Location: In front of my monitor in Logan, Qld, Australia
Can I have that day?

My day for the last month and a half has been: get up, have breakfast, stay on computer till 3, eat, back on computer till dinner, dinner, on computer till sleepy then I hit the sack. Repeat.

I could do with some action in my life, cos right now, it's sorely lacking.
_________________
My type of joke... 'Three guys walk into a bar. One of them is a wee bit stupid, and the whole scene unfolds with a tedious inevitibility.'
http://actionman133.isa-geek.net:8080/