Powder-- a story I'm writing
Page 1 of 1 [ 4 posts ]
Ana54
Veteran


Joined: 26 Dec 2005
Gender: Female
Posts: 7,061

Powder.


Soft, white, foul-smelling powder, floating through the air, making people cough. Coming from a box in the customs agent's hand. She stands there frozen in fear. Drops the box without closing it. Takes off faster than the plane taking off outside the glass wall.


Trolleys piled head high with bags, boxes and suitcases get knocked over. Those things that hold up the rope that keeps the line in order get knocked over. Wastebaskets heaping with rotting apple cores and banana peels get knocked over. People get knocked over.


Inclusing me. A fat customs agent nearly snaps my spine in two as he runs for the door, waving an explosives trace detector resembling a vacuum cleaner around like a cattleprod, yelling at people to stay put, swinging it around like a baseball bat, yelling at people with powder on them to get away from the others, holding it out in front of him like he's going to use its hidden cattle prod feature and yelling-- yelling-- at people to stay calm. He slips on a banana peel and goes flying, the pile of declaration cards he's holding showering down on me. An old lady half my weight knocks me down and as I lie on the floor waiting for her to get off me and hoping she had no powder on her I notice that someone who was trying to be funny wrote on his card that he has a pack of 20 ballpoint pens, approximately 4.5 inches in length.


The rest of the security staff in those gangsta uniforms that make them look more like waiters than security personnel are already blocking all the doors, calmly telling people to stay put and that this is a quarantine area.


I see no powder on myself and no way of getting out, so I go sit with the people with no powder on them and join their talk about terror, anthrax, 9/11, anthrax, 7/7, anthrax, Bush, anthrax, Cheney, anthrax, bin Laden, anthrax, Afghanistan, anthrax, Iraq, anthrax, Iran, anthrax, WMDs, anthrax, the police, anthrax, the fire department, anthrax, the Poison Control Center, anthrax, the CDC, anthrax, the paramedics, anthrax, the Army, anthrax, the navy, anthrax, the air force, anthrax, the Marines, anthrax, airport security and anthrax.


The customs agent that remains and was trying toplay the hero and nearly snapped my spine is in the doorway, but he's stuck. He's like that guy from Lost who had to buy two tickets because he took up two seats. He probably really wanted to travel, but gave up on it because he knew he'd never be able to travel cheaply being fat as he was, and he decided that Twinkies were more of a luxury than travel and decided to become a customs agent instead. He probably has to use the main entrance every day when he comes in to work because it's the only entrance with double doors. He probably gets stuck in the metal detector and sets it off because he's touching the sides, so they have to life up all his pieces of fat aand wand underneath every one. He must be such a pain.


"I'm not going anywhere!" he cries. "You don't either!" He's trying to make it look like he got stuck in the doorway on purpose, to keep others from going out, but he's facing out, not in, so it's obvious to everyone that he was trying to make a break for it.



"It's Argenbright!" an old man with powder all over him who is clutching his heart gasps in disgust, giving the customs agent a dirty look. "Or should I say, NotSoBright!"


"The customs agents aren't security contractors," a young security guard who is also covered in powder says. "It's just those two individuals are bad apples. She just didn't expect powder to come out of the box. She might have expected an undeclared knife or undeclared cash or something... And anyway, we're Cognisa now, not Argenbright."


Cognisa. Cognitive. Aware, awake, paying attention, not missing anything, intelligent, smart, using one's brains, posessing sense.


They changed their name out of shame. After this incident, they'll have to change it again. With their history of Latin-sounding names, I think the next one should be GenocAid. Get it?






To be continued.
computerlove
Veteran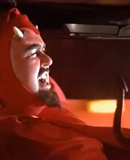 Joined: 10 Jul 2006
Age: 120
Gender: Male
Posts: 5,791

Mage
Veteran



Joined: 10 Oct 2006
Age: 40
Gender: Female
Posts: 1,054

musicislife
Veteran


Joined: 8 Oct 2008
Age: 28
Gender: Female
Posts: 766
Location: whatever town, usa
computerlove wrote:
nice stuff Ana (:
i agree


_________________
Dance like no one is watching. Sing like no one is listening. Love like you've never been hurt and live like it's heaven on Earth. -Mark Twain
If life gives you lemons, make grape juice, sit back and watch the world wonder how you did it.