The media has a subtle yet powerful effect on our lives. Everything we do, everything we think, and everything we feel is influenced by the stories told by those in the media. Autism is relatively new in the public eye so the stories we hear have an even greater impact on what we think.
When I was growing up, I developed much of my interpretation of the world from the television, films, and books I read. But when I got diagnosed at the age of 9, the only mainstream representation of autism was Rain Man.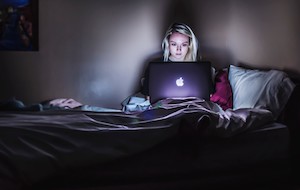 While many people are quick to criticize Rain Man, it came at a time when very few people had even heard the term autism, and even less knew what it was. The movie brought autism to the mainstream and I think we underestimate how important it was for so many people to finally have something they could point to in the media (especially parents who were growing tired of explaining it to everyone they encountered in public). A lot has changed since then and we've seen more representation, both good and bad.
We're certainly in a better place in 2018 than we were when I was diagnosed in 1995. Shows like The Bridge and The Good Doctor show autistic characters as more than just a stereotype and their autistic protagonists even hold jobs that audiences may envy.
The show Atypical centers around a family raising a teen on the spectrum. The show even portrayed the autistic character dating and eventually getting a girlfriend. While many people were critical of the first season, the showrunners made an effort to change things and season two will feature autistic actors playing autistic characters on screen. With that said, I hope to see more shows being sensitive to the realities from the start instead of reacting to criticism after damage is already done.
Negative stories that hurt those of us on the spectrum are not limited to TV series and films. Some of the worst offenders are news organizations. For instance, when an act of violence occurs in our society (like a shooting), reporters and commentators on cable news are quick to look for an explanation. Often times, they point to an autism diagnosis, despite the fact that autism has absolutely no link to violence. Even bringing up autism in these stories, serves no purpose, and confuses audiences into thinking it must be related.
But this is all gradually improving over time. Every time something negative is released in the media, I am relieved to see voices of those on the spectrum speaking out and many allies echoing these voices.
I can't wait for the day where we don't need to speak out against negative portrayals, but it's important to understand that things won't change overnight and patience and understanding is key to convincing others to listen to our stories. Autistic people have the responsibility to advocate respectfully and understand that parents also have stories to tell. But parents also have to realize that their children grow up and don't always share the same opinions. If we can all work on listening to each other more, I think the world will be a better place and the media landscape will be more inclusive.