Ten Tips for Getting and Keeping a Good Job
Share this: Job Search
Barbara Bissonnette is the Principal of Forward Motion Coaching, and specializes in career development coaching for individuals with Asperger's Syndrome. This is a sponsored article.
Since 2006, I have coached individuals with Asperger's Syndrome on how to find and keep employment. My clients include young people who are entering the workforce, and individuals in their 30's, 40's, 50's and 60's. Job seekers work with me to explore occupations, learn interviewing skills, and develop effective job search plans. Employed people need help addressing performance problems, improving their interpersonal communication skills, or planning how to disclose their Asperger's Syndrome and request accommodations.
I wrote The Complete Guide to Getting a Job for People with Asperger's Syndrome, and the Asperger's Syndrome Workplace Survival Guide: A Neurotypical's Secrets for Success to share ideas and strategies that my clients have used successfully. Here are my Top Ten Tips for getting a job and staying employed.
If you are looking for a job…
1. Respond only to positions for which you are qualified. Although you do not need to meet 100% of the criteria in a job ad, you do need the critical competencies. These are listed first, and may be emphasized with phrases such as, "demonstrated success using;" or "must have."

2. Target your job search. Looking for too many different jobs at once quickly becomes overwhelming, and makes it hard to prepare for interviews. Instead, limit your search to one or two job categories.

3. Rewrite your resume if it isn't producing results. The purpose of a resume is getting an interview. It is a marketing document that must clearly communicate the value you bring to an employer. If you are qualified for the jobs you are applying to, but you are not getting interviews, you need to revise your resume.

4. Volunteer while you are looking for a job. This offers several benefits. It provides current experience to include in your resume. The people you interact with may know of job leads. It also adds structure to your week. (Usually, when people have too much free time, they have trouble getting things accomplished.) Try to find a volunteer opportunity that is related to the type of paid work you want.

5. Don't mistake sending resumes with a job search plan. Passively sending resumes over the Internet is the hardest way to find work! Most people find jobs through networking, or direct contact with an employer (e.g. internship, part-time job). There are several ways to network that do not involve walking into a room full of strangers. An effective job search plan will have four or five activities that you perform on a consistent basis.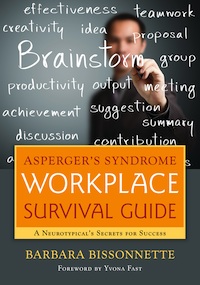 Keeping a job is contingent upon meeting your employer's performance expectations, and getting along with your co-workers. Hard skills, which are the proficiencies needed to perform the technical aspects of a job, account for only about 20% of the abilities that employers want. The remaining 80% of desired abilities are soft skills, which relate to interpersonal communication and working within a group. Soft skills often present the biggest employment challenge for people with Asperger's Syndrome. If you are employed…
1. Develop hard skills that are that are in demand. Employers are more willing to overlook "eccentricities" in individuals who have technical skills and expertise that are hard to find.

2. Make the most of soft skills that you already possess. Communication is not the only important soft skill. Qualities such as honesty, helpfulness, loyalty, conscientiousness, and creativity are also valuable. Look for ways to maximize your personal attributes on the job. For example, is your work very accurate because you are careful and methodical?

3. Accept feedback and act on it. Some individuals resist employer feedback, questioning whether there is really a problem, or becoming angry when asked to change. Others become anxious and ignore the issue, hoping that it will resolve itself (this almost never happens). If a problem is brought to your attention, think about what you need to change in order to solve it. Get help from someone you trust, if necessary.

4. Consider disclosing to your employer. For some people, disclosing their Asperger's Syndrome makes the difference between keeping and losing a job. The Americans with Disabilities Act compels employers to make accommodations for employees or applicants who have a disability. The Job Accommodation Network (www.askjan.org) offers free information about the Americans with Disabilities Act, workplace disclosure, and accommodations.

5. Find a work buddy. This is a colleague, preferably a peer or someone in your department, who can translate the myriad unspoken workplace rules for you. A work buddy can explain what the real job priorities are, suggest short cuts to improve your efficiency, or fill you in on office politics. While this can be a formal mentoring arrangement, most times, your work buddy is someone you like and trust.
If you are having difficulty finding work, or managing your current job, try one or more of these tips. Learning new skills, and experimenting with new strategies, can dramatically improve your results. 1 Top Qualities and Skills Employers Seek, Ronald Manalastas,
---
Barbara Bissonnette's books, The Complete Guide to Getting a Job for People with Asperger's Syndrome and Asperger's Syndrome Workplace Survival Guide, are available from Jessica Kingsley Publishers. As a special benefit, Wrong Planet readers can get a 15% discount on Barbara's books as well as on JKP's complete list of books on autism, Asperger's Syndrome and related conditions. Order on the JKP website using voucher code JOBS13 on or before July 31, 2013 to receive the discount.
Jessica Kingsley has over 500 books, videos and other resources in print covering all aspects of the autism spectrum. Click this link to sign up for a free copy of JKP's Complete Autism Catalog.
Keep up-to-date on the latest new books, contests, author events and other fun stuff by "liking" the JKP Autism Community on Facebook.
---
Wrong Planet's Summary
"The Complete Guide to Getting a Job for People with Asperger's Syndrome" is an excellent resource for anyone with ASD that needs help choosing a career, finding a job, or managing the social complexities in the workplace. Author Barbara Bissionnette is an expert on her topic and has written a book with so much great advice, it should be required reading for anyone that is having a tough time finding a job or facing challenges at work. Parents of adult children with ASD will find he book's information extremely valuable in their own efforts to support their adult child in the workplace.
The book is comprehensive in scope with topics on effective job search plans, successful marketing and networking strategies, insightful interviewing techniques, tips on how to stay motivated during a job search, when to disclose a disability, and how to request workplace accommodations – pretty much anything a person with ASD needs to know to become successful at work. Throughout the book are great organization tools with templates of profiles, checklists, and planners that can be copied or downloaded by the reader.
If you have ASD and are just starting your job search, looking for a job more than 6 months, or fired from numerous jobs over the last few years, this book was written for you!
Friends of Wrong Planet receive a 15% discount off their purchase, so don't forget to enter voucher code JOBS13 when placing your order.